ADECIA Wireless Solution
The flexibility to choose between gooseneck and boundary microphones allows you to customise your use of the ADECIA product family to your use-case. This will allow you to create the most comfortable conferencing space possible, without worrying about wiring or configuration changes should the layout change.
Various Microphone Lineup
The wireless microphone system comes in 4 microphone formfactors to support a wide variety of conference formats: 2 boundary microphones with different directivity options and 2 gooseneck microphones offering long and short lengths.
Select your microphones based according to your conference format and layout: Boundary microphones: Omnidirectional (angle of 360 degrees sound) & Unidirectional (angle of 120 degrees)
Gooseneck microphones: 6" (15 cm) and 12" (30 cm)
Channels for Your Use-Case
The 8 Channel Wireless Access Point (RM-WAP-8) functions as the receiver and antenna. The ADECIA Wireless Solution is available in 8 channel (RM-WAP-8) or 16 channel (dual RM-WAP-8).
Complete Coverage from Sound Input to Output
The ADECIA Wireless Solution helps organizations to overcome challenges with implementation, configuration and room acoustics by providing all components required for a successful installation. The wireless microphone system (RM-W), core processor (RM-CR), a Dante-optimized network switch (SWR2311P-10G) and line-array POE+ powered speakers (VXL1-16P) provide a complete solution designed to work effortlessly together.
Best Audio in Shortest Time
Optimize sound settings for your room environment in no time with auto-detection and auto-configuration of components. The system can also be remotely monitored via a web UI.

Reduce Time, Spend and Complexities
Audio/control signals can be transmitted with one network cable using the network audio standard, "Dante". This solves troublesome wiring and installation problems. Furthermore, in an environment where the layout of the conference room and the number of participants fluctuate, the wireless microphone frees you from being tied to one position because of pre-installed cabling. Added flexibility is achieved through the ability of being able to utilise up to 16 microphones simultaneously on one wireless system.
Use DECT standard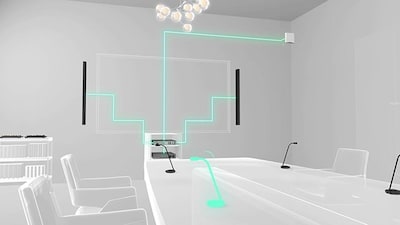 The ADECIA Wireless Solution adopts the DECT standard, eliminating concerns with radio wave compatibility interference with wireless LAN, etc. It is designed to be safe in terms of information leakage and security.
Integration into All Audio Environments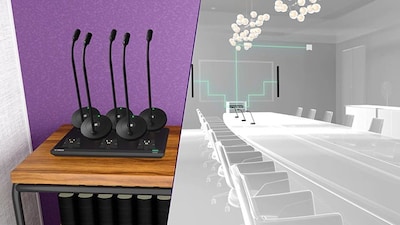 Equipped with various interfaces such as USB, Bluetooth®, SIP, and audio input/output terminals, the system allows the flexibility to use for both web conference systems and telephone line conferences. Supporting Windows, macOS, iOS and Android, as well as being fully compliant with market leading UC applications, the ADECIA Wireless Solution gives you the flexibility to customize to your specific needs. Various types of microphones are provided to match every particular usage, and each microphone has an operating time of 20 hours or more before requiring a charge.
Certified by Strategic Partners
Flexible Application Support
No more hassle of wiring when the room layout is changed to fit applications, such as discussion, seminar, training, and you can choose from two types of microphones, gooseneck and boundary, according to your usage to create the most comfortable conference space.
Sound processing for high quality remote conferencing experience
High-speed Echo Canceller
Moving microphone itself or moving things near it usually causes echoes in typical microphone system, resulting in interruptions and stress. As the RM-W is equipped with an excellent high-speed echo canceller that can instantly remove the echoes, you can experience a stress-free focused conversion.
Unique Yamaha Processing Technologies
Yamaha's unique HVAD technology distinguishes the human voice vs. noise to block unneeded sound from being sent to the far-end.
While other echo canceller's measure the room and set levels once, Yamaha's adaptive echo cancellation is constantly scanning the environment for changes to deliver an uninterrupted, echo-free audio stream.
This sound technology automatically adjusts voice levels to deliver a consistent, optimal volume level to the far-end, no matter if some voices are louder vs. weaker or closer vs. further away from the microphone. This automatic feature enables everyone to hear or be heard at an ideal level.
When constant noise like a projector fan or air conditioner system enters the communication space, Yamaha's Noise Reduction technology removes these components to clearly convey the presenter's audio to the far-end.
Reverberation from an acoustically-poor environment can make it difficult to distinguish a clear voice signal. Dereverberation suppresses these reverb components to deliver a highly-intelligible output.