Biography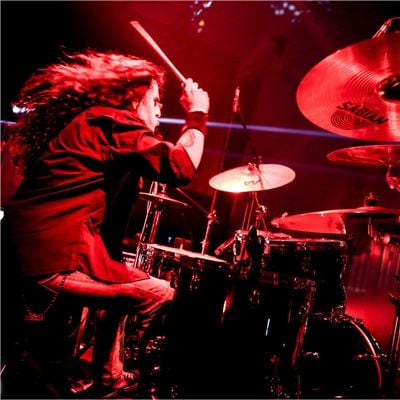 Kostas Milonas was born on August 12,1988 in Trikala, Greece. He started playing music at the age of 3 and became a professional drummer at the age of 10. At a very young age He had his first experience with percussion, piano and guitar, but the drums was the one that inspired him the most.
His influences include people who have inspired him over the years, recordings he listens to, live performances he has attended or played in, and anything musical or not with a deep meaning under it's surface.
During his career as an all around drummer he has appeared on stages like : Underground clubs , Churches , Agganis Arena, Jazz At Lincoln Center and PPM Fest, Monsters Of Rock Cruise and recorded with musicians like Carol King, Willie Nelson , Annie Lenox ,Tina Arena, (6 times grammy award winner ) maestro Jorge Calandreli, Alexandra Burke , Tammy McCann, Kris Kristofferson ,Steve Wood, Sissel Kyrkjebø, Daniella Lugassy, National Symphony Orchestra Of Nerit, Symphony Orchestra Of Athens, John Patitucci, Steve Bailey, Mario Frangoulis , Elli Paspala, Haris Alexiou, Glykeria , Foteini Darra, George Perris, Melina Aslanidou , Dimitris Bassis, Mimis Plessas, Stefanos Korkolis, Antonis Remos, Giannis Ploutarxos, Eleni Foureira, Tamta ,Kostas Martakis, Sofia Vossou ,Giannis Savidakis,Vaggelis Germanos,Kostas Leivadas,Nikos Kalliinis, Ekeinos K Ekeinos, Delek Coch, Mayeli Burguete, Gus G (Ozzy Ozbourne,Firewind) , Warrel Dane(Nevermore,Sanctuary), Derek Sherinian, Andy James, Marco Sfogli, Bob Katsionis , Liv Kristine, Sunburst ,Paradox, Doraccor,Foray Between Ocean, New Day Slave among many others artists and bands touring all over the world. Kostas currently is the drummer of the greek pop star Sakis Rouvas.
He holds a degree in drums from Philipos Nakas Conservatory , London College Of Music and recently graduated with honors and a degree in performance major from Berklee College Of Music. He is fortunate enough to have studied performance with great musicians like Rod Morgestein, Ian Froman, John Blackwell , Bob Gulloti , Kim Plainfield , Marko Djordjevic , Ed Saindon, Gustavo Agatiello and Ilias Doumanis.
22'' Kick (x2)
14'' Snare
13'' Snare
8'' Tom
10''Tom
12''Tom
16''Floor
18''Floor
SS - 950 (X2)
CS - 965 (X7)
HS - 1200T
TC - 945B
DS - 840
Kostas Milonas - Lost Sky - Foray Between Ocean (drum play through)
Sunburst - Dementia [OFFICIAL MUSIC VIDEO]
Kostas Milonas - Imprisoned [OFFICIAL VIDEO]
Slipknot - Surfacing - Kostas Milonas (drummer audition)