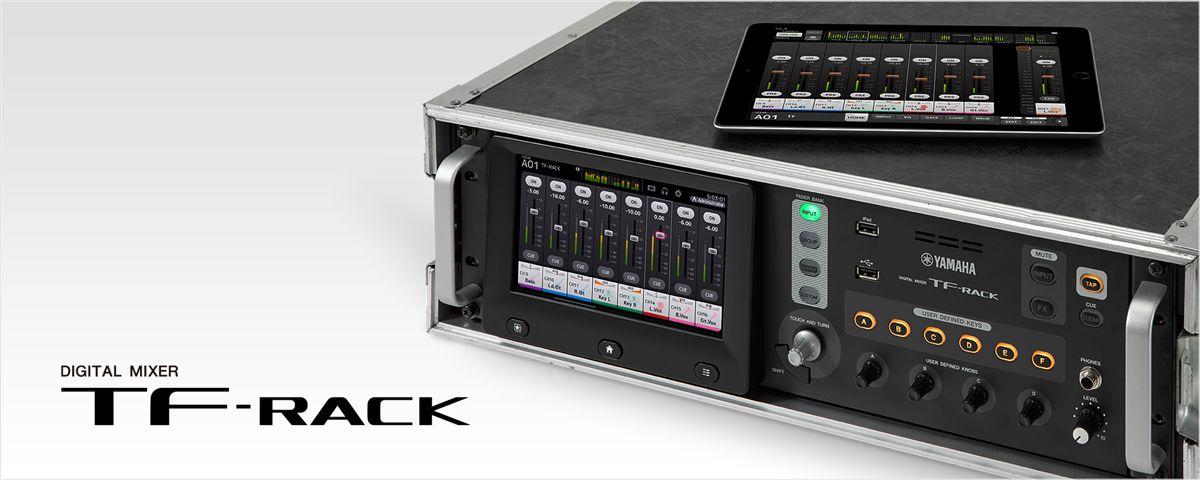 16 mic/line + 1 stereo line Input, 16-Output. Intuitive and smooth all-in-one rack-style digital mixer

TF-RACK offers all-in-one mixing and processing capability for small to medium scale live sound, corporate speech events, installations and much more. It packs intuitive user interface, natural control flow, digital effects/processing units and many shortcuts to great sound into a compact, portable rack-style unit.
Scene memory that stores mix settings for instant recall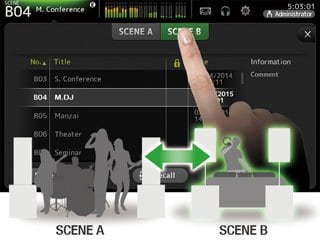 The scene memory features banks A and B, each capable of holding up to 100 scenes. That's a total of 200 scenes that can be set up and instantly recalled whenever needed. A number of scenes are pre-programmed to give users a head start: scenes with the 1-knob COMP and 1-knob EQ controls engaged for the easiest possible operation, and scenes with the 1-knob features disabled for experienced engineers who might want to follow an established procedure. The banks are great for organizing different types of scenes: one for scenes categorized by music type, and the other by event type, for example.
1-knob COMP™ & 1-knob EQ™: One Knob to Dial In the Ideal Sound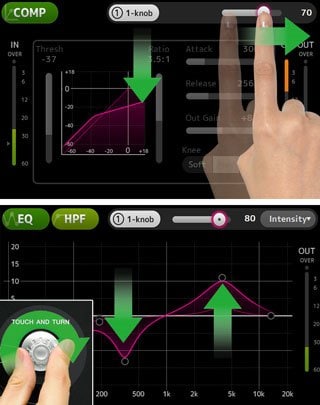 An experienced engineer can do a lot with a compressor: bring a guitar to life, add punch to bass, tighten up a snare, and make vocals ride clearly on the mix. The 1-knob COMP can do all of this quickly and easily, without the need to juggle multiple parameters to achieve the desired effect. Originally introduced in Yamaha analog mixers, the 1-knob COMP quickly became a popular and valued feature. It has now been further refined in a digital version that adds new setup ease and efficiency to the TF consoles.
The same concept has been applied in a new 1-knob EQ feature that provides notably improved speed and smooth operation. 1-knob EQ has been painstakingly fine-tuned by Yamaha R&D staff in cooperation with distinguished sound engineers, to ensure that you can achieve outstanding results with minimum effort in the shortest possible time. A Vocal Mode makes it easier than ever to achieve a clear, well defined vocal sound, while an Intensity Mode offers 1-knob "intensity" control over EQ curves you either select from the presets or create from scratch.
But there's more: the 1-knob COMP and 1-knob EQ are provided on the output channels too, so you can quickly achieve overall output compression or EQ that ideally matches the room and audience size. The output 1-knob EQ has a Loudness Mode in place of the Vocal Mode, effectively increasing the sound pressure level while maintaining optimum sound as you rotate the knob. Both the 1-knob COMP and 1-knob EQ provide quick access to the full compressor and EQ displays, so you can fine tune settings as required.
QuickPro Presets™ Provide Instant Access to Pro Sound Setups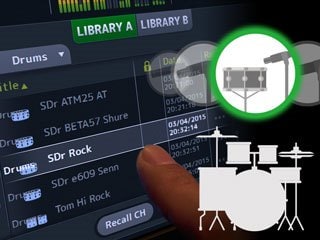 The Yamaha R&D team developed a selection of optimized QuickPro Presets™ for a wide variety of microphones and output equipment by working in collaboration with well-respected engineers and major microphone manufacturers such as Audio-Technica, FitEar, Sennheiser, Shure, Ultimate Ears and Westone Laboratories. With these practical presets even the novice engineer can get very close to the ideal sound, while experienced engineers will appreciate the significant time savings. For input channels we prepared more than 200 presets that range from vocals to drum sets. All the presets were precisely tuned by using a wide range of actual microphones and instruments. For output channels we developed presets for a variety of speaker systems and in-ear monitors with several variations to match different environments and room sizes. All of these can be used as is when time is tight, but they are also great starting points for manual fine tuning. Setups created from the presets or from scratch can be saved as additional presets too. The 1-knob EQ and 1-knob COMP can be used with QuickPro Presets™ providing a super-streamlined way to tweak your sound. In addition to the onboard presets, new QuickPro Presets™ will be added to the Yamaha Pro Audio website, so be sure to check for updates.
A Natural Sound Foundation with Extra Creative Freedom

Faithful reproduction of the on-stage sound is the foundation, then creativity can take over. Yamaha's unswerving approach to live sound reinforcement is alive and well in the TF series. The input stage of any console has a notable effect on its sonic character. The TF consoles feature acclaimed D-PRE™ microphone preamplifiers that not only deliver outstanding quality, but are recallable as well. Circuitry and individual components have been reassessed and redesigned where necessary to achieve extraordinarily pure, natural sound. That solid sonic foundation is backed up by an updated selection of high-performance processors and effects. Input and output channel processors such as EQ, gates and compressors are complemented by eight processors that provide a broad spectrum of creative capabilities.
Recallable D-PRE™ Microphone Preamplifiers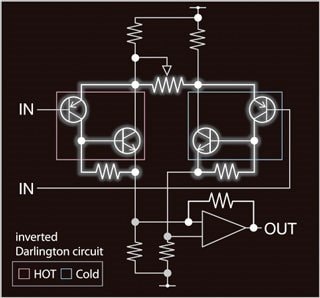 The TF series consoles feature new recallable versions of Yamaha's acclaimed D-PRE microphone preamplifier. The preamplifiers, or head amplifiers in any console play a significant role in defining the sound of the final mix, so Yamaha engineers spared no effort in developing and refining the D-PRE design to ensure that every nuance and subtlety of the original signal is effectively captured. The circuit is based on a discrete inverted Darlington pair configuration that achieves clean, precise amplification with consistently low noise and distortion at all signal levels. While some microphone preamps are built specifically to impart a unique character of their own, the D-PRE preamplifier has been painstakingly designed with a flat, wide frequency response that retains the tone and nuance of the original sound so that the essence of the performer's art is captured intact.
8 Powerful Processing/Effect Units and More…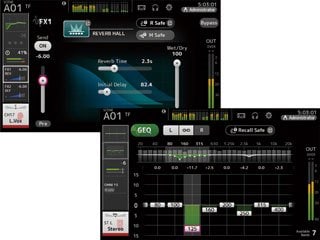 In addition to channel processors, TF consoles feature eight powerful processing/effect units. All the units feature the same type of SPX processors that have become standards in recording and live sound applications, offering 19 programs ranging from reverb and delay, through modulation effects such as flanger and chorus, to multiband compression.
With two units of global FX the panel EDIT key opens the effect parameter display where detailed parameters can be adjusted instantly. The remaining six Ins FX are available in the AUX 9/10~19/20 master channels for additional signal control i.e. managing levels for in-ear monitoring, or controlling output delay for remotely located speakers using a delay. If more than two Global FX units are required, these Ins effects can be used as additional SEND/ RETURN effects by assigning them to the main stereo bus.
The AUX 1~8 buses and main output channels include the same 4-band parametric EQ as provided on the input channels, plus 31-band Flex12 GEQ. Both types of EQ are invaluable for optimizing speaker response and eliminating feedback. These GEQ can also be assigned to the physical faders for more detailed fine tuning.
Revolutionary Dan Dugan Automatic Mixer Built In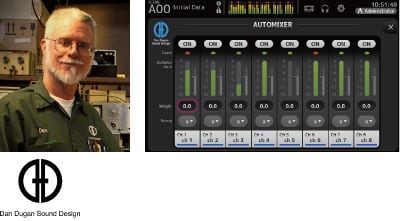 Thanks to in-depth collaboration with Dan Dugan Sound Design, renowned Dan Dugan automatic microphone mixing with its advanced algorithms is built into the TF series consoles. The processor is available for input channel 1-8, you can accsess the setting screen easily from their channel strips for automatically optimized microphone gain distribution. Gain control is smooth and natural, as though experienced human operators were doing the mix. The system also effectively reduces feedback and comb filter issues. For speech applications, especially non-scripted situations, this allows the operator to concentrate on details other than fader operation for consistently high-quality mixes.
Compact system for conference/corporate events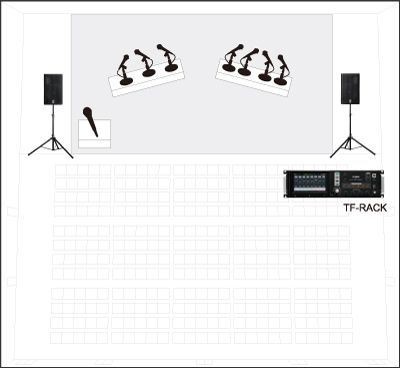 The compact TF-RACK is perfect for applications that require space-saving sound systems such as conferences or corporate events. Since TF-RACK is a rack-mountable mixer it will provide you with a simple and discreet sound system.
The eight Dugan channels of the TF-RACK provide the smarter, more elegant solution for speech applications. When the Dugan automixer is used, it automatically raises the gain of the active microphone inputs while lowering the gain of the inactive microphone inputs to create a consistent overall mix level. This eliminates the need for complex fader operation during presentations or panel discussions. Advanced Dugan automatic mixing algorithms also maintain a safe feedback margin, ensuring high quality, high clarity sound at all times.
Applications that Work Seamlessly with the Console

Separate software applications that allow wireless mixing, personal monitor mixing or offline setup of digital live mixing consoles have become fairly common.
The TF series goes a step further with three dedicated apps: TF Editor, TF StageMix and MonitorMix. These apps feature user interfaces which seamlessly extend the console on any device.
TF Editor Facilitates Offline Editing Plus Showtime Control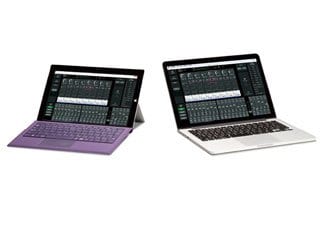 The TF Editor application for Windows and Mac computers provides a complete interface for offline editing and setup of TF consoles, with scene and preset management capabilities plus convenient keyboard entry of channel names.
In addition to being able to set up the console offline at any convenient location and time, the TF Editor can be used online at the same time as the TF StageMix and MonitorMix applications. A Windows 8 PC with a multi-touch screen can use the same gestures as on the console itself. And if using Wi-Fi, a PC can function as a convenient remote-mixing device. Up to three devices running TF Editor or StageMix can be connected at the same time.
TF StageMix™ for Wireless Mixing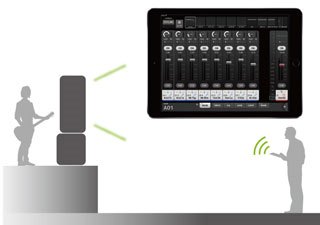 TF StageMix is an iPad application that provides wireless control of TF series consoles, allowing remote mixing from audience seating, in front of floor monitors, or any other listening position. It can also be used at the console as an extension of the console's own interface. The TF StageMix interface is designed for similar operation and flow to the console display, making it easier than ever to refine the mix from any location.
Personal Monitoring with MonitorMix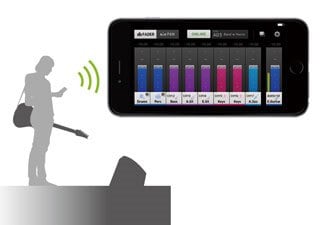 The MonitorMix application for the TF Series allows individual wireless AUX mixing from up to 10 iPhone, iPad or iPod touch devices simultaneously. Each performer can have convenient control over the AUX buses assigned to them, without having to deal with complex settings or parameters. They can also create personal Group settings for even easier adjustment: all levels on just one fader, for example. Since up to three devices running TF Editor or StageMix and up to 10 devices running MonitorMix can be connected at the same time, even large bands can have the personal control they need, reducing demands on the sound engineer.
Smart Looks and Flexible Design for Custom Control Panels

No specialized programming skills are required. An intuitive interface makes it easy to create faders for volume control and switches for channel on/off, for example, and position photographs or other graphic elements on the tablet screen as required to create original control panels that are ideally suited to individual applications and users. In addition, ProVisionaire Touch and ProVisionaire Control can control CL/QL/TF series digital mixers, MTX and MRX series processors, XMV series power amplifiers, R series(ADDA) and Tio1608-D I/O rack, and Nexo NXAMPmk2 powered TD controller. It is easy to combine those parameters onto the one screen.
Intuitive User Interface Optimized for Touch Panel Operation

In developing the TF series Yamaha engineers built from their existing base of acclaimed high-end mixer interfaces, adding intuitive control in an interface optimized for the type of touch panel control that has become a familiar feature in a wide range of applications. Allowing most operations to be carried out via the touch panel alone, the innovative TF series interface will quickly become second nature to a broad spectrum of users. Whether you have experience with Yamaha digital consoles, work with other digital consoles, operate analog consoles, or have never operated a mixer before, TF consoles will lead you to the desired results quickly and effortlessly through a smooth, efficient workflow. The availability of physical controls surrounding the touch panel further enhances control versatility and precision.
Touch Operation for Intimate Control

Refined for the smoothest possible operation via touch-panel control, the TF user interface offers a smooth workflow that can be an advantage in any mixing situation. The display content has been specifically designed for easy, direct accessibility, with a layout that promotes the most natural, efficient mixing. Touch panel operation is as easy as shaping the sound with your fingertips.
Touch & Turn Knob Offers Extra Control Precision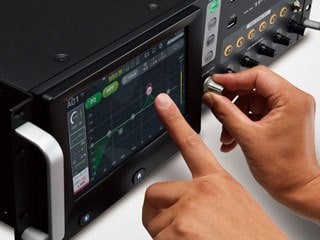 When you need extra precision for a fine EQ or other adjustment, the physical Touch & Turn knob is always available right beside the touch panel. There are also four User Defined Knobs below the panel that can be assigned to control compressor threshold, EQ gain, or other parameters you need fast, direct access to while mixing. The knobs always affect the currently selected channel.
Versatile Connectivity for a Wide Range of Applications

TF-RACK is equipped with 16 mic/line + 1 stereo line inputs and 16 ouputs on its compact body and also has a slot to mount optional expansion card NY64-D. Like other TF series, TF-RACK can easily add up to three Tio1608-D I/O racks with NY64-D card using the console's QUICK CONFIG mode.
16 mic/line + 1 stereo line inputs and 16 outputs on its compact body
TF-RACK is equipped with 16 microphone/ line inputs, 16 line outputs (8 XLR and 8 TRS), and USB connectivity for PC multi-channel Playback/Recording and so on. A TF-RACK can cover so many applications.
Plug In & Play Dante Stagebox Solution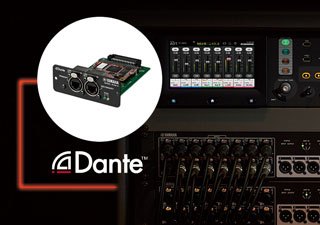 The Tio1608-D is a Dante-equipped I/O rack with 16 microphone/ line inputs and 8 line outputs. Tio racks feature the same recallable D-PRE™ microphone preamplifiers as the TF series delivering extraordinarily natural and musical sound. In combination with TF series consoles, Tio racks can be connected using up to three units with a fast and easy setup. * Optional NY64-D Card is required.
TF-RACK can create a versatile stage box system with up to 64 inputs and 40 outputs in conjunction with the Tio1608-D I/O and NY64-D, all mounted within a compact rack.