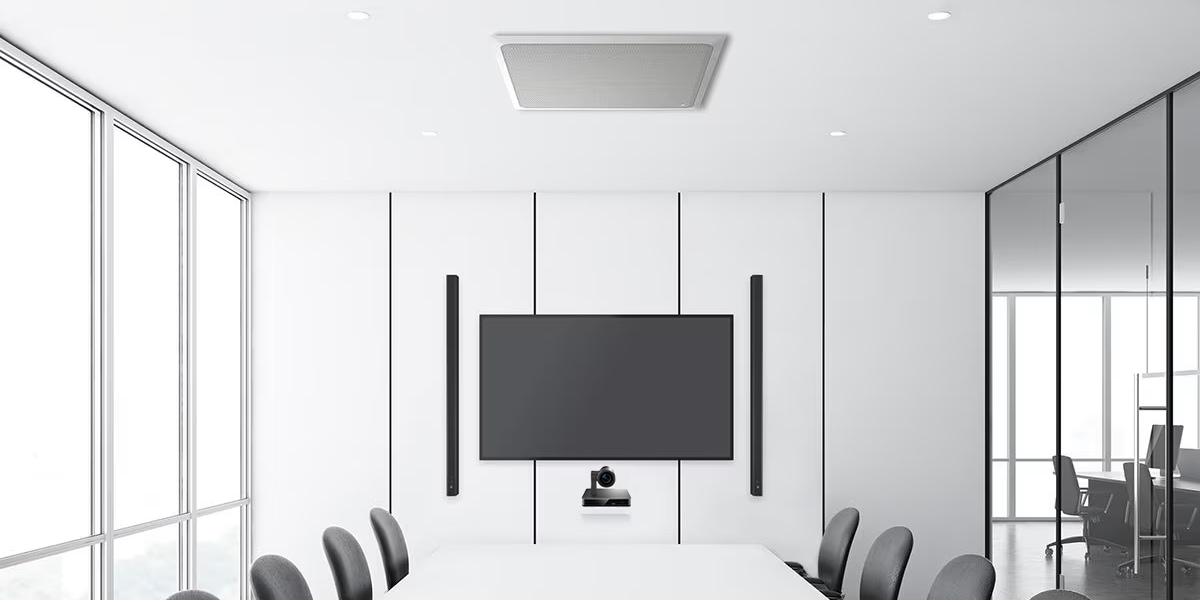 Who Is Yealink
Yealink is a global brand that specializes in video conferencing, voice communications and collaboration solutions with best-in-class quality, innovative technology and user-friendly experience. As one of the best providers in more than 140 countries and regions, Yealink is Top5 video conferencing provider (IDC Global Video Conferencing Market Statistics 2021), and ranks No.1 in the global market share of SIP phone shipments.
Why We Chose to Partner with Yealink
At Yamaha UC, we believe that best-in-class audio must be paired with exceptional video solutions. Our technology partnership with Yealink is a further step toward creating the best-in-class video and audio collaboration for modern meeting spaces, delivering intelligent and effortless hybrid meeting experiences.
Best-in-Class Video and Audio Collaboration
Yamaha Ceiling Array Microphone RM-CG and Tabletop Array Microphone RM-TT can be combined with Yealink's intelligent cameras and touch panels (Yealink MVC960 - Microsoft Teams Rooms System for Extra-large Rooms) to enhance video and audio experience further.
The joint solution not only enables Presenter Tracking and Speaker Tracking, but also includes technologies like Adaptive Echo Canceller, Automatic Gain Control, Noise Reduction and Dereverberation to give remote attendees an immersive video and audio experience.
Designed for extra-large rooms, the Yealink MVC960 Microsoft Teams Rooms system is a bundle video solution with UVC86 multi-camera system, MCore mini-PC, MTouch II touch panel and AVHub, bringing a premium Teams meeting experience you need to interact, connect and collaborate with internal and external users seamlessly and intelligently.
With new and ever-changing communication requirements, one thing remains the same: the need for high-quality, worry-free audio for collaboration. Based on Dante audio networking, ADECIA helps organizations overcome challenges with implementation, configuration and room acoustics by providing all components required for a successful installation and operation - designed to work seamlessly together to reduce set up time, costs and complexities - to get a professional, high quality audio experience.