Biography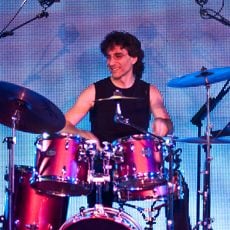 Stoyan Yankoulov was born on September 10th in Sofia. At the age of 8 he started taking piano lessons. At the same time he showed interest for percussion instruments. Since young age he was the base of musical bands as a drummer. He graduated from the musical school "Lyubomir Pipkov" in Sofia and then from the State Musical Academy "Pancho Vladigerov" majoring in percussion instruments. He was accepted in the Big Band of the Bulgarian National Radio. Yankoulov plays with rock and jazz bands, with folklore ensembles and with jazz-rock and fusion bands. He was guest starring on folklore and jazz festivals in Bulgaria, Finland, Belgium, Germany, Holland, France, Turkey, USA, Macedonia. He performed in the projects of Bobby McFerrin, Okay Temiz, Kornel Horvat, Carlo Rizzo, Arabel Karajan, Enver Ismailov, as well as with Theodosii Spassov, Ivo Papazov, Milcho Leviev, Simeon Shterev, Yildiz Ibrahimova, Anatoli Vapirov, Petar Ralchev.
Yankoulov is a laureate of the Crystal Lira award - 2004 in the jazz category by the Union of the Bulgarian Music and Dance Activists, Classic FM radio and the National Centre for Music and Dance at the Ministry of Culture. He was awarded an honorary diploma by the Embassy of the Republic of Bulgaria in Austria for his great contribution to the popularization of Bulgarian jazz music and for his spectacular performance on the Panorama of the First Bulgarian Jazz Music Week Outside of Bulgaria. Bulgarian National Associations "Phenomena" - a collective member of the International Academy of Informatization in UN awards Stoyan Yankoulov with a golden statue for exceptional contribution in the field of art and popularizing Bulgarian culture all over the world.
Stoyan Yankoulov records plenty of jazz, pop and ethnic music. This has significantly influenced his unique playing style. He manages to produce orchestra sound on percussion instruments. Sometimes the listener has the impression that there is more than one percussionist playing. "The acquisition of other techniques - from bass, piano or other instruments is useful in this process. For me to play means to communicate."
Yankoulov breaks and stretches the traditional way of playing drums, tupan, percussion by applying new techniques and non-standard musical ideas. Combining authentic folklore with new ways of expression with percussion instruments Stoyan Yankoulov reveals the unlimited variety and emotional intensity of the unique Bulgarian culture.