Biography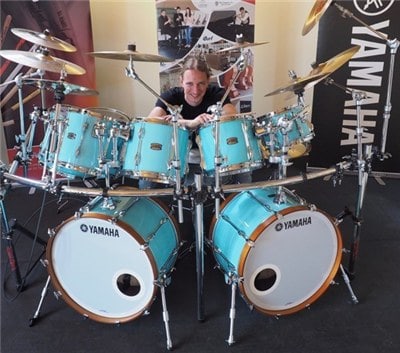 Klemen Markelj is professional session drummer. His life started to revolve around music in elementary school when he began to play the guitar. Later he traded guitar for drums. He started accumulating his knowledge by taking lessons from Aleš Rendla and at Lower Music School.
Drum workshops:Horacio El. Negro Hernandez, Pete Lockett, Bill Bruford, Mike Haid, Petar Curic, Simon Phillips, Jeff Hamilton, Benny Greb, Russ Miller, Peter Erskin, Steve Gadd, Terry Bozzio, Joe Heredia,..
He topped that knowledge with the study at Los Angeles College of Music in 2006, 2009 and 2012,:Joe Porcaro, Tony Inzalaco, Ralph Humphrey, Gary Ferguson, Dave Beyer, Mike Packer, Richie Gajate Garcia, Dave Pozzi, Matt Starr, Steve Pemberton,
Works with:
Antorino, Avven, Anej Piletic, Arseia Godalni Orkester, Bad Law, Black Diamond, Big Band Kranj, Big Band Nova, Big Band RTV Slovenia, Big Nina, Boris Brvar, David Martinez, Darlene Love, Dejan Pakiz, Dream On, Down Under, Graham Keane, Interceptor, Jazz Ensemble-Tony Inzalaco, Jaka Vižintin, Klemen Campa, Liam, Maja P, Metalsteel, Nessy, Obidil, Oko, Out of Plumb, Pihalni Orkester Alples, Prevara, Rom, Salome, Sašo Guschin trio, Simon Jovanowich, Seven That Spells, Trio Arina,The Drinkers, The Fallen Idea, Triglav, Trenutki, Unimogs, Pain in the Ass, …Alberto Albis, Allstair Lasken, Armin Sešek, Ben Heymen, Bernhard Lackner, Brad Rabuchin, Damjan Pančur, Danny Laran, Edward Therens Garcia, Elizabeth Hangan, Elliot Shep Steinwedell, Fernanda Alba, Jackson Allen, Jade Giorno, Jerry Watts Jr., Jonathan Osterling, Joseph Salcedo, Ken Song, Kibrom Ashebir Birhane, Leonardo Nobre, Marcela Campos, Patrik Greblo, Peter Kastner, Sam's Fever, Sean Traylor, Stephen Mastnak, Steven Peters, Sam Norman, Tony Inzalaco, Tomaž Ahačič, Vicious Head Society, William V Farmakis, …
Gear List
Klemen Markelj is playing Yamaha Recording Custom Surf Green double bass drum set.
2x Bass drums: 24×14
1x Tom Tom: 10×7,5
1x Tom Tom: 12×10
1x Tom Tom: 13×11
1x Tom Tom: 14×12
1x Tom Tom: 16×14
1x F.Tom: 18×16