Biography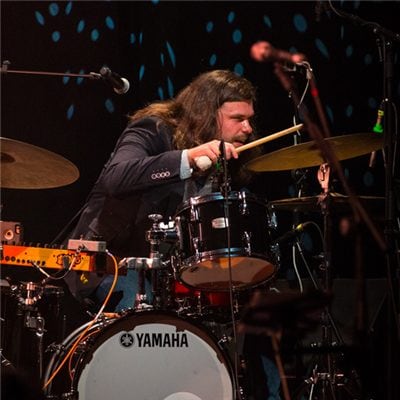 Josh Dion, hailing from Storrs Connecticut, grew up playing drums beside his father and uncle, both drummers. With a hearty vinyl collection of Classic Rock, Blues, and Big Band within reach he found his influences early. Other childhood interests included Dixieland (history of jazz), Pentecostalism and Funk which further affected his understanding of music, energy and its possibilities.
A prodigious talent, Josh started playing professionally at age eight and was invited to shed with the UConn Jazz Studies program by the time he was twelve. While he was impressing people with his percussion skills, he was playing piano and singing in his local church, developing talents which would eventually help him stand out even among the world class drummers in whose company he has now.
After a stint in the music program at New Jersey's William Paterson University, he has made New York City his home. Josh's college days were greeted by an immersion in the Jam band scene with NYC funk band ulu, who toured the Eastern half of the US. Josh was soon noticed by jazz guitarist Chuck Loeb, who offered Josh an opportunity to be seen and heard by a whole new level of the music audience. From that platform, he has gone on to work with some of the major brand names of the music world: Candy Dulfer, Spyro Gyra, Will Lee, Pat Martino, Jeff Kashiwa, Jason Miles, Anthony Jackson, Edgar Winter, Randy Brecker, Bob James, Eric Marienthal, Til Bronner, Jim Beard, Ivan Lins and on and on.
Currently Josh is busy with his latest project Paris Monster: