Enter the world of home theater with the YHT-4960. This home theater package will completely transform how you listen and watch at home. Plus, plenty of features means plenty of choices on how to enjoy your entertainment.
CINEMA DSP 3D
Incorporates extensive sound field data from world famous concert halls and music clubs to reproduce big theater acoustics within the walls of your home.
Music Enhancer
Restores compressed audio so it sounds the way it was intended to be heard.
High Slew Rate Amplifier
Responds to rapid changes in input level for precise and stable signal transmission.
MOVIES AND GAMES LIKE NEVER BEFORE
HDR10+
Provides deeper contrast and more realistic images that stay true to the creators' intent.
4K/120Hz
Enables a higher refresh rate, giving you a smoother and more realistic viewing experience.
Gaming-dedicated Functions (ALLM,VRR,QMS,QFT)*
Ensures seamless motion and transitions to enhance your performance.
HDMI Multiple Input with Latest Technology*
Multiple HDMI input will equally support the latest HDMI technology to allow next-gen gaming consoles can be connected at the same time.
*These functions are available via future update.
SIMPLE TO SET UP, SIMPLE TO USE
MusicCast App
Explore the power of multi-room audio, access your sources and streaming devices, and control your AV receiver, all through your smartphone.
AV Setup Guide App
Offers expert guidance through installation, cable connections, and various other settings.
Voice Control Systems
Works with Alexa and Google Assistant, so your AV receiver is always at your command. Through AirPlay 2, you can stream your music via voice control operation Siri from Apple iOS device. *Availability varies by region.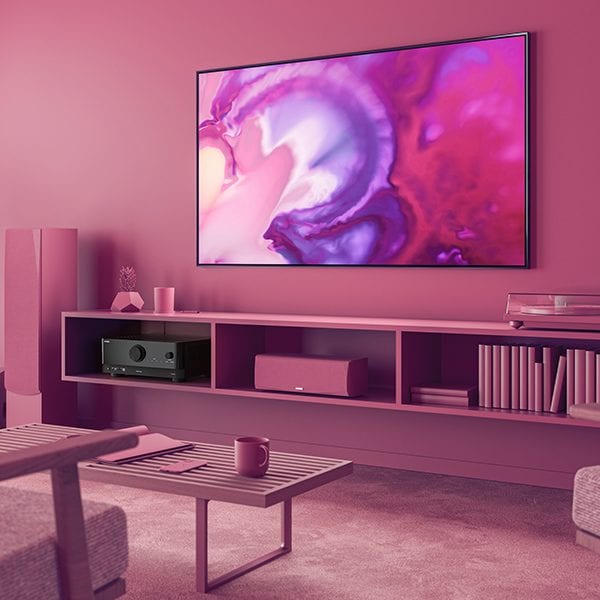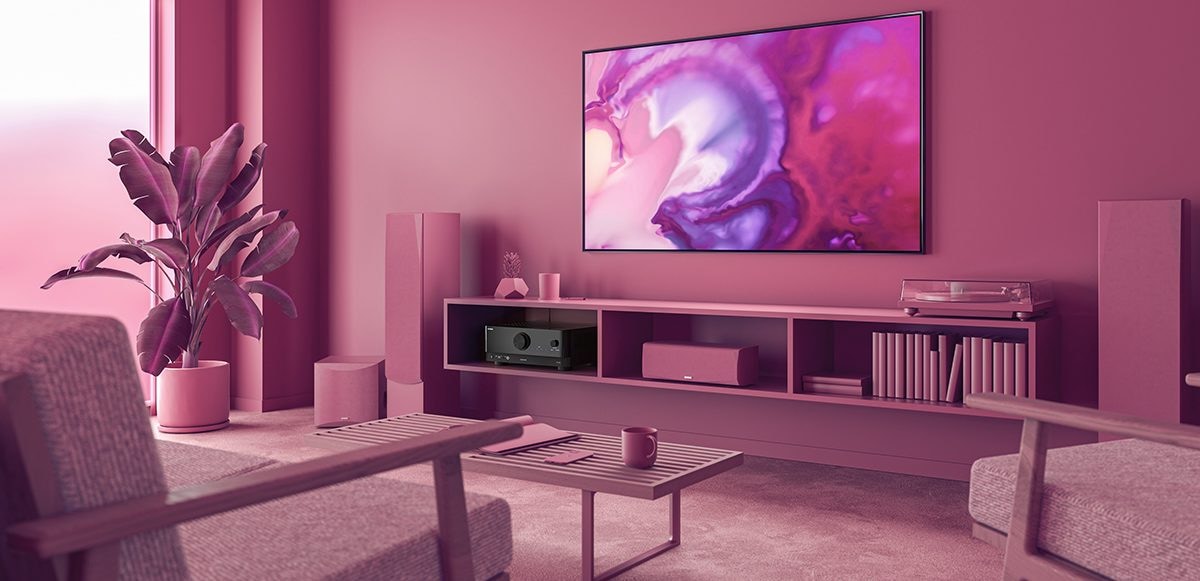 YPAO™
Analyzes room acoustics and calibrates audio accordingly to optimize the sound for your space.
Compatible with Wireless Rear Speaker
Gives you the freedom to arrange your rear speakers wirelessly to suit your home décor.
Impressive Design
An iconic design built for performance, style, and ease.
Enhance Your TV Sound
The NS-P41 speakers are tuned to deliver a clear, soft sound that is pleasant to listen to for long periods. In addition, the surround speakers and subwoofer are perfectly matched for smooth sound crossover. They deliver a rich, expansive sound — not only for your TV sound, but also music and movies.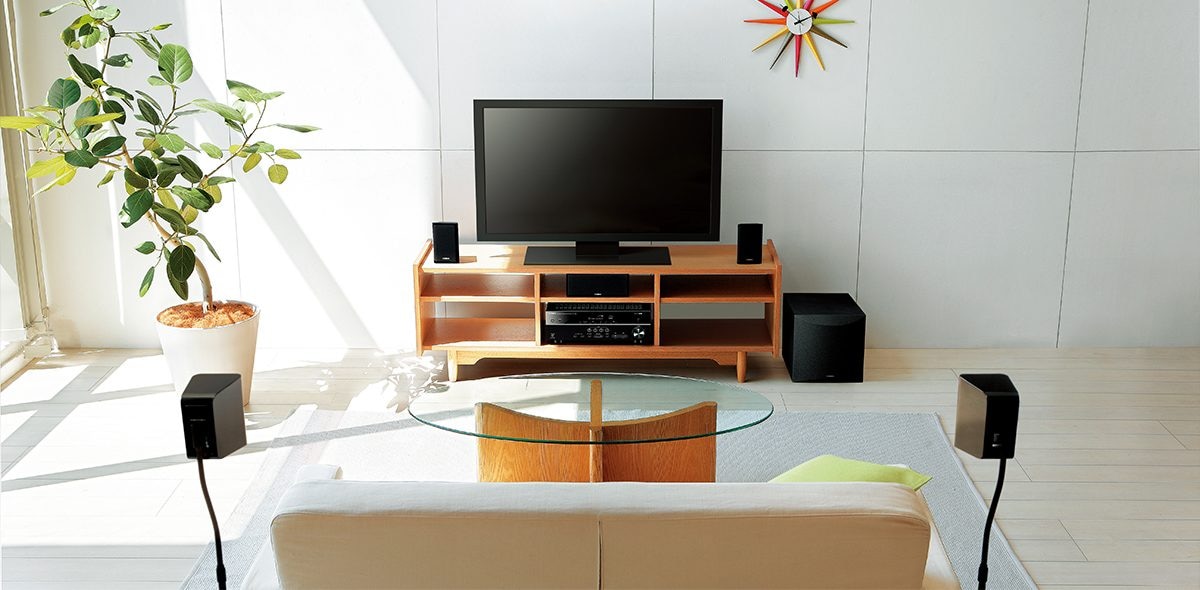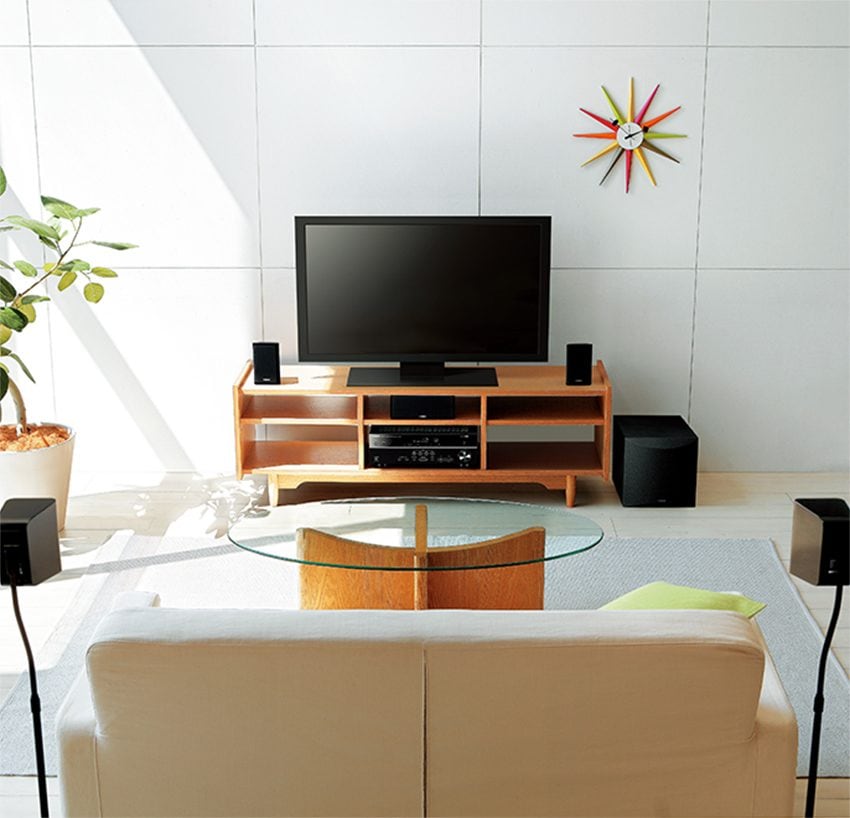 Traditional Design Enhances Any Room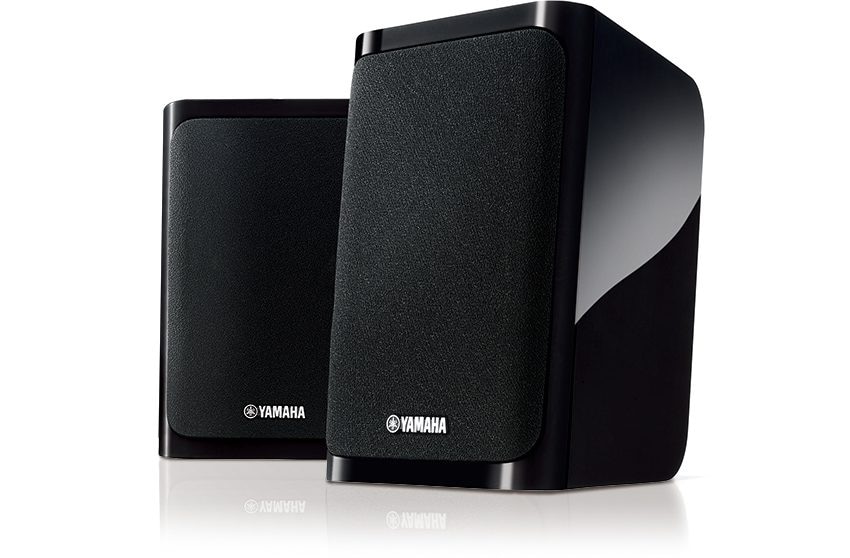 Traditional Design Enhances Any Room
All of the speakers feature the traditional look of Yamaha speakers. Their clean design matches their high sound quality, and they can be placed in any convenient location.
Advanced YST II Produces Awesome Bass
Advanced YST II Produces Awesome Bass
Advanced YST II combines negative-impedance and constant current principles to drive the speaker cone with tight control. It optimises effective speaker impedance to maintain stable and accurate low range response and high sound pressure levels, for more natural and energetic bass reproduction.
Twisted Flare Port Produces Clear and Tight Bass
The subwoofer features Yamaha's unique Twisted Flare Port technology, utilising a flared, gently twisting shape that diffuses the vortex of air generated around the edge of the port and creates a smooth flow of air. This reduces extraneous noise not present in the original input signal and provides clear, accurate low frequency reproduction. From special effect sounds in movies to the atmosphere of a live venue, you hear bass that is clear, tight and realistic.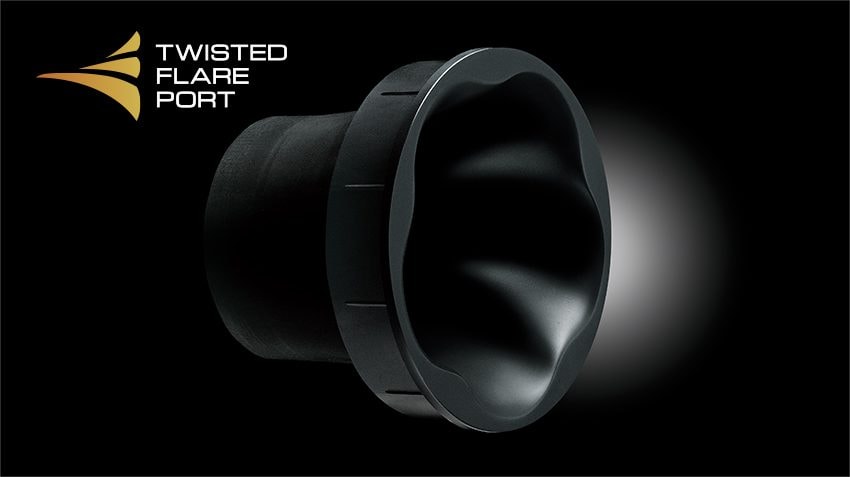 Wall mountable (front, centre and surround)
Keyhole openings in the back allow these speakers to be neatly mounted on a wall.
5.2 ch AV receiver with CINEMA DSP 3D, HDMI™ 4-in/1-out, wireless surround, compact 5.2-channel home theatre speaker package, perfect for upgrading your conventional TV sound to rich surround.
5.2 Channel powerful surround sound
Wi-Fi, Bluetooth®, Airplay 2, Spotify Connect and MusicCast multi-room audio
HDMI™ 4 in/1 out, 8K/60Hz, 4K/120Hz, HDR10+
Dedicated gaming function(ALLM,VRR,QMS,QFT) via FW update
Voice control with Alexa and Google Assistant devices. *Availability varies by region
MusicCast Surround capable - add MusicCast 20 or MusicCast 50 speakers to create wireless surround sound
HD Audio with CINEMA DSP 3D
YPAO™ sound optimisation
5.2-channel speaker system
Wall mountable (front, centre and surround)
The colors and finishes shown may vary from those on the actual products.