Enjoy the Entire Spectrum of All Your Favourite Music Sources
The R-N402D is a receiver and network audio player in a single unit. You can use it to easily play audio sources downloaded from the Internet and stored on a PC or NAS system. Or, enjoy streaming music services and internet radio (with Airable). Moreover, Yamaha's original MusicCast App allows you to enjoy your favourite tunes on a smartphone or tablet device via wireless connection.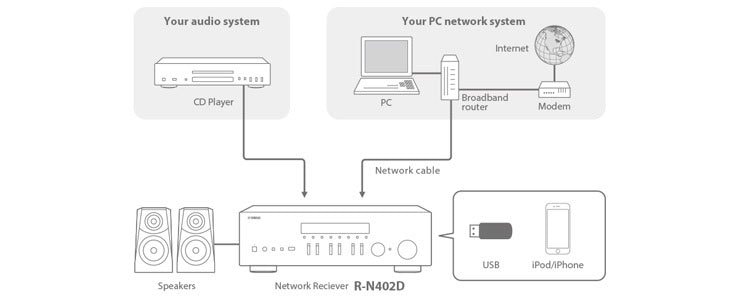 MusicCast
MusicCast is a new revolution in network audio, use all your MusicCast products together or separately, it's completely up to you. Control it, all from one app, designed to be intuitive, quick and simple to use. Use a soundbar, a wireless speaker, an AV Receiver, Hi-Fi audio whichever suits you best, mix and match then expand your MusicCast system as time goes on. All new from Yamaha, the MusicCast system brings everything to everywhere for everyone.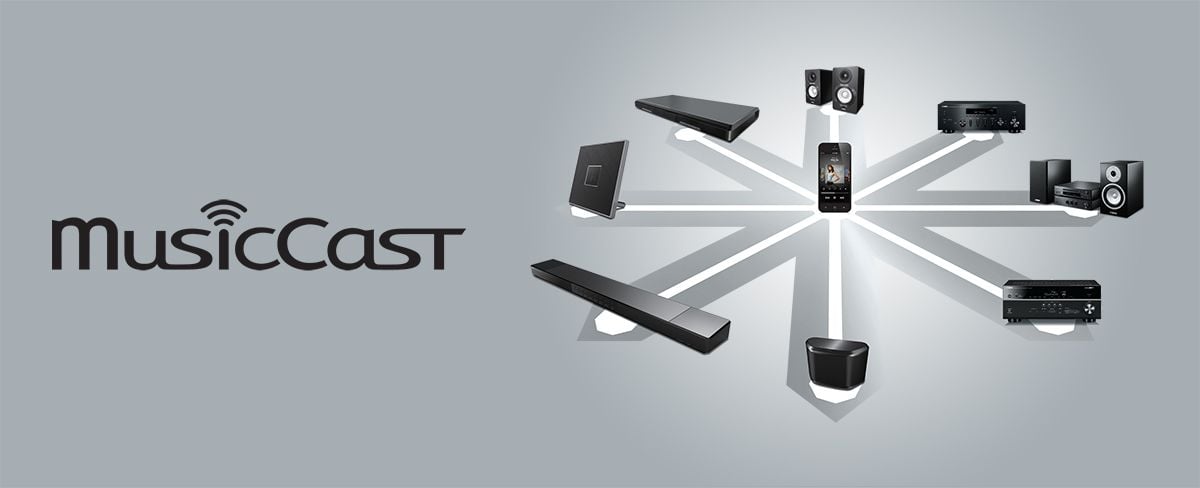 MusicCast Expands Entertainment Possibilities
MusicCast employs a high performance wireless network to deliver music and audio enjoyment. It can stream digital music content from your smartphone, PC or NAS to other MusicCast devices in your home. It can also share the music from external devices such as a CD player or TV connected to the R-N402D. Audio content from Bluetooth-connected smartphones or tablets can also be streamed to MusicCast devices in multiple rooms.

Control App for Easy Operations
Simply tap the beautifully designed screen and take control of all the audio equipment and all the music in your home.

Stream via Bluetooth® or AirPlay®
You can hear all the music sources from your smartphone via wireless Bluetooth or AirPlay connection. You can play music from music apps, radio apps, or YouTube™-type video hosting services.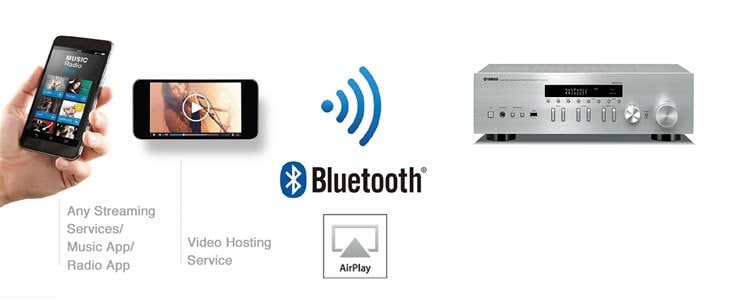 Bluetooth Output for Convenient Music Streaming
The R-N402D is equipped with the latest Bluetooth technology, making wireless operation more convenient than ever. You can stream music from the R-N402D to Bluetooth headphones for private listening or to Bluetooth speakers.

Enjoy Digital Radio from DAB / DAB+ Tuner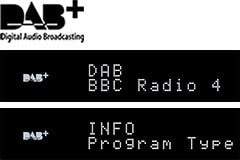 DAB and DAB+ are Digital Audio Broadcasting formats that offer a large selection of radio stations with high sound quality. Other benefits include automatic tuning to available stations with a list to choose from, and display of information such as station name. You can preset 40 DAB / DAB+ stations.
USB Digital Connection for USB Flash Drives on the Front Panel
The R-N402D provides a USB port on the front panel for quick connection of USB flash drives. You have instant access to all your stored music, and the digital connection ensures that you hear it with the highest possible sound quality.
Gapless Playback Compatibility
Many live and classical albums have no gaps in the music. Gapless playback ensures that there are no pauses between audio files. This provides playback with no interruptions, the way it was meant to be heard.
* Compatible with WAV, FLAC, AIFF and ALAC file formats, and input from USB / DLNA / DMP.
5.6 MHz DSD Native and AIFF 192 kHz/24-bit Reproduction with High Performance 24-bit D/A Converter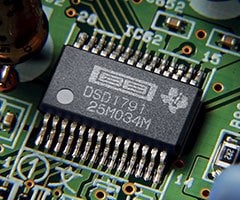 To ensure maximum network audio quality, the receiver supports WAV / FLAC 192 kHz/24-bit, Apple Lossless 96 kHz/24-bit, DSD 5.6 MHz and even the new AIFF 192 kHz/24-bit formats. It uses a BurrBrown 192 kHz/24-bit DAC that has a firmly established reputation for quality. You'll enjoy the beautiful sounds of high resolution audio.
Digital Audio Input for TV or Blu-ray Disc™ Player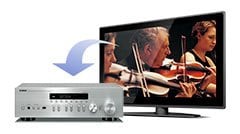 The R-N402D is equipped for digital audio input — with both optical and coaxial terminals. The optical is for receiving audio from a TV, and the coaxial for receiving audio from a Blu-ray Disc player. The audio stays in the digital domain, giving you pure, pristine dynamic sound for all your entertainment sources, from sports and other programmes to movies and concerts.
Simple yet Sophisticated Design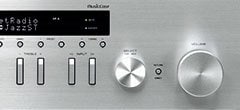 With a beautifully simple and unique design inherited directly from Yamaha's HiFi audio components, the R-N402D also boasts an easy-to-operate button layout. The aluminium front panel has a richly textured silver hairline finish. Both inside and out, everything about the R-N402D demonstrates our commitment to superior design and operability.
Other Notable Features
• Screw-type speaker terminals
• Speaker selector and speaker terminals for two systems
• Auto power standby
Yamaha Eco-Product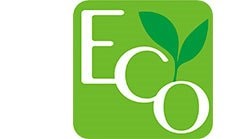 With an advanced energy saving design, this product achieves a low power consumption of not more than two watts when in Network Standby mode.