Convenient selection and control of all your favorite music sources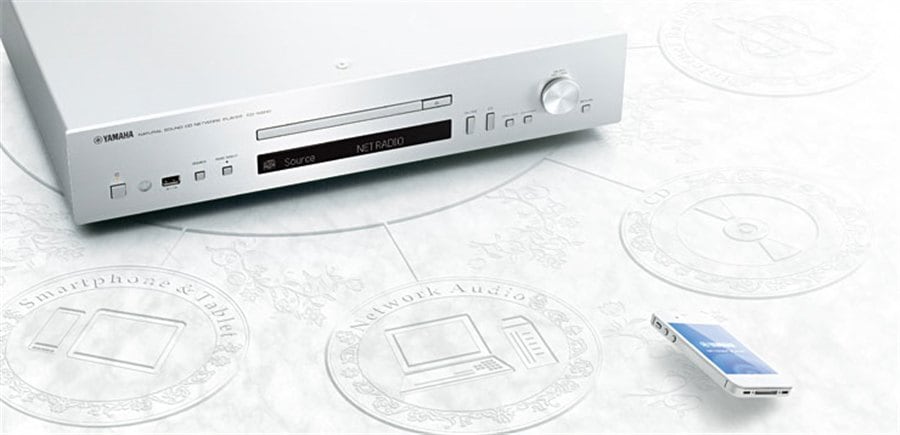 Enjoy a wide variety of music sources, including CDs, network audio and smartphones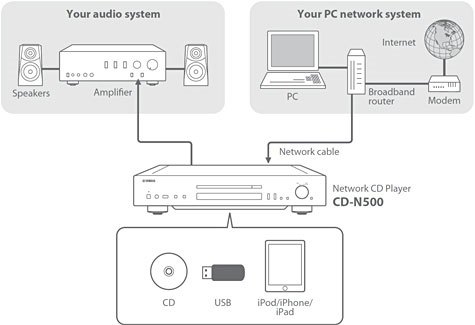 The CD-N500 is a CD player and network audio player in a single unit. In addition to your own CDs, it's simple to play audio sources downloaded from the Internet and stored on a PC or NAS system. And the special NP Controller application allows you to enjoy your favorite tunes on a smartphone or tablet device via wireless connection.
Listen to Internet radio stations from around the world and access music streaming*
Support for the vTuner radio station database enables sampling of Internet radio broadcasts throughout the world by connecting to the Internet over a LAN. Furthermore, support for music streaming allows you to enjoy a wide variety of music content.
*Available via future firmware update. Service availability depends on regions.
USB digital connection for iPod, iPhone, iPad and USB devices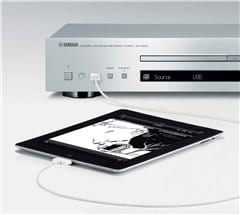 The CD-N500 provides a USB port on the front panel for quick connection of an iPod, iPhone, iPad or USB stick. You have instant access to all your stored music, and the digital connection ensures that you hear it with the highest possible sound quality.
NP Controller App for handy operation from your smartphone or tablet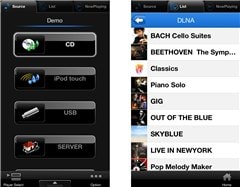 Download Yamaha's NP Controller app and use it to browse your device display to select the source or tune you want to play, as well as to see song information and album art. You can also make network and other settings. The app is compatible with either iOS (iPod, iPhone, iPad) or Android OS.
The App's Music Play function allows wireless music enjoyment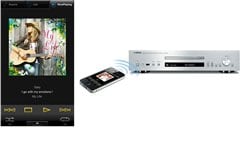 The NP Controller app includes a Music Play function that lets you stream music wirelessly from a smartphone or tablet. There's no need to change to another app to enjoy music streaming. Now it's quick and easy to select and hear the music stored on your samartphone via your audio system.
Beautiful sound and top-grade design inherited from the Yamaha HiFi concept
The CD-N500 beautifully reproduces all sources as they were meant to be heard, and has a design sense based on the Yamaha HiFi concept. The aluminum front panel with its simple yet high-quality hairline finish features a top-grade design with a rotary encoder that's convenient for network audio control. Perfectly matching other Yamaha HiFi components, the CD-N500 ensures a high level of owner satisfaction.
High-quality audio design that's meticulous about sound, using carefully selected parts
The carefully considered interior layout includes left-right symmetrical audio circuitry and provides the shortest circuit path for audio signal travel, allowing sound to be faithfully reproduced without loss of audio signal purity. Furthermore, all parts were rigorously selected, including the 192KHz/32-bit Burr-Brown high precision DAC, highly regarded for audio use.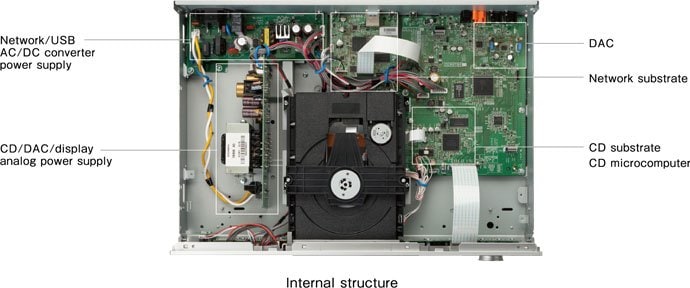 High quality CD playback that lets you fully enjoy natural, high purity sound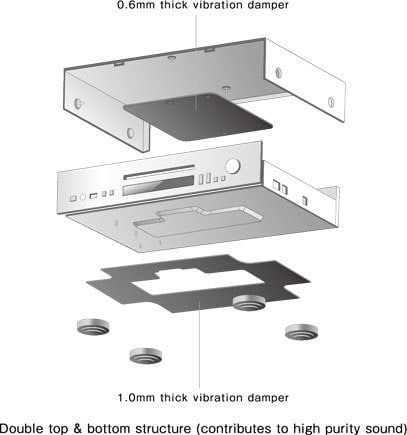 This unit has a double top and bottom structure with steel vibration dampers on both the top cover and the bottom of the chassis. Various vibrations that lower sound quality are prevented by joining the CD mechanism and chassis using our proprietary loader support, and by increasing the stiffness of the mechanism itself by anchoring it to the surface. The optical pickup is specialized for CD use with priority on sound quality, and an intelligent digital servo that performs servo control optimized for the disc being played achieves stable disc tracing and improves reading precision. The result is natural and high purity sound playback.
Advanced network audio features and high reliability cultivated over many years of experience
Compatible with the FLAC 192kHz/24-bit and Apple Lossless formats, the CD-N500 uses Yamaha's advanced network audio technology to ensure optimum performance with high-resolution audio sources. It also features gapless play, which eliminates the pauses usually heard when continuous music (classical, live album) is transmitted from a network source. A Pure Direct mode can be selected for even higher quality audio output.