Yamaha High Sound Quality, Created by Rich Experience and Tradition, and High Technological Expertise
Yamaha, with a long history of 125 years as a musical instrument maker, also has a high reputation for HiFi components. The A-S201 was created by taking advantage of this rich experience and high technological expertise. Based on the concept of "Natural Sound", for reproducing all music as it really sounds, and built with scrupulous care from circuit design to basic sound production, even though an entry model it reproduces high sound quality and musically rich sound.
100W × 2 High Output Power* and High Sound Quality Circuit Design
The A-S201, with 100W* × 2 high drive power that's above its class, has a high sound quality design that minimises the length of signal routes and optimises the circuit layout. Positioning the power transformer near the power amp circuit reduces power loss while improving peak power supply capacity to enable high volume output. The signal ground and power supply ground are connected at one point, eliminating mutual interference to achieve a higher S/N ratio. The result is sound filled with clarity and a feeling of openness.
* 8 ohms, 40Hz—20kHz, 0.2% THD
Pure Direct Mode for Greater Sound Purity
Engaging the Pure Direct Switch causes the audio signal to bypass the control circuits for bass and treble, balance and the back buffer amp. This improves sound quality while maintaining full output capacity. Shortening the signal route improves sound purity, helping to reproduce even the most delicate musical nuances.

Simple and Sophisticated Design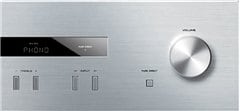 The A-S201 inherits the simple and sophisticated design style that Yamaha HiFi audio is famous for. With an elegant hair line finish, it harmonises beautifully with other HiFi audio equipment. The operating buttons and volume knobs also show our commitment to simplicity and ease of use.
Phono MM Terminal for Vinyl Playback and Screw-type Speaker Terminals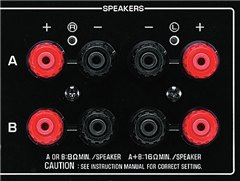 The A-S201 has one MM phono input terminal for connecting a record player. A total of five input terminals mean that it can be the central unit for different types of audio systems. And its large screw-type speaker terminals provide firm connections with thick speaker cables.
Power Saving
A power management function automatically cuts off the power (switches to standby mode) when the amplifier has not been operated for a long time. It can be set to 2, 4, 8 or 12 hours, or off. In addition, power consumption during standby is only 0.5W, achieving good energy saving performance.
Other Notable Features
• Simple design remote control
• Speaker A, B or A+B selection
• Head phone terminal