JUKE Delivers All Your Favorite Music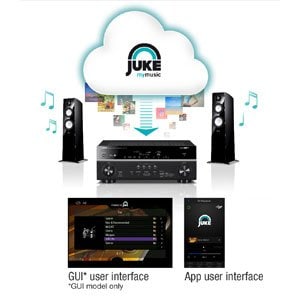 Music streaming service JUKE offers access to one of the most comprehensive music libraries in the world. 25 million songs from all genres from more than 80,000 labels are available to you. Enjoy your favorite songs in the best sound quality thanks to Dolby Pulse technology and play music wherever and whenever you want. JUKE is available as a premium subscription service at Euro 9.99 per month.
For more information, visit myjuke.com.
Support for latest HDMI version
This model will support HDMI 2.0 connectivity*.It will support 4K Ultra HD 50 Hz/60 Hz signal pass-through to output motion-smooth high definition videos.
*Firmware update to support this feature has been available since 2014 Jul.
Network Functions
This AV receiver provides a variety of network functions that enable you to access more sources and also enhance operation. You can connect the receiver to a PC to enjoy Internet Radio, Spotify®*, Pandora®*, and operate your system via Web Browser Control. The AV Controller app (from iTunes App Store or Google play) lets you control various functions from your iPod, iPhone, iPad or Android phones / tablets.
*Music service availability varies by region.

AV Controller App for Easy, Convenient Operation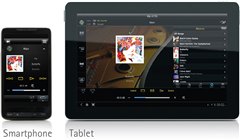 This AV receiver lets you use the Yamaha AV Controller app that is downloadable from the iTunes App Store or Google Play to control power on / off and volume, select input and DSP modes and operate other functions from an iPhone or Android devices. You can also use in as many as 23* different languages and customise the interface by hiding unused icons and renaming functions. A tablet version is also available.
*As of spring 2014
DSP Parameter Adjustment for Easy and Detailed Setting
This AV receiver is equipped with a variety of sound programmes that utilize Yamaha's original DSP technology. They allow you to easily create sound fields like actual movie theatres or concert halls in your room and enjoy natural stereoscopic sound fields. Now you can use the AV Controller app to adjust DSP parameters to your preference to match the type of music / movie or the mood you want to achieve. There are two modes, Basic and Advanced, that you can choose according to the type of adjustments you want to do.

AirPlay Allows Streaming Music to AV receiver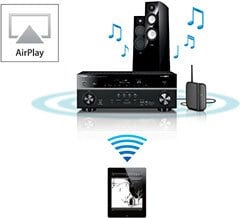 This AV receiver supports AirPlay, which means they can accept wireless music streaming from iPod touch, iPhone or iPad, as well as from iTunes on Macs or PCs. This makes it easy to enjoy music from your mobile devices or computer on your home theatre system. You can use view metadata such as song title, artist name as well as album art* via AV receiver's on-screen display.
*Some models don't support album art display.
Stream Millions of Songs with Spotify Connect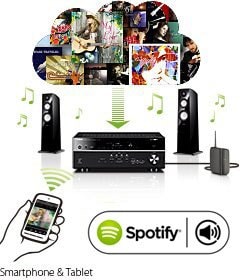 With the Spotify app on your smartphone, you've got instant access to millions of songs. And now you can stream those songs to your Yamaha system by using Spotify Connect. Just hit play to start streaming music. What's more, when you've been listening on your smartphone outside and come inside, the song immediately streams to your AVR—like magic, you enjoy uninterrupted music. You can also personalise playlists and receive phone calls while listening to music.
*The Spotify app and premium account are required. Visit spotify.com for more details.
Try Spotify Premium for free on your Yamaha Home Entertainment System for 30 days.
http://spotify.com/yamaha
*Spotify service availability depends on regions.
HTC Connect™ for Wireless Streaming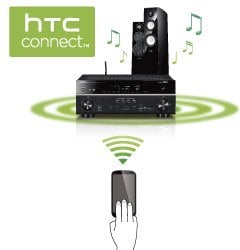 HTC Connect™ lets you stream music to your AV receiver wirelessly. You don't need a separate app because HTC Connect™ is built right into your HTC phone. Simply swiping the HTC phone screen starts music output to the AV receiver, from the HTC device's local music sources or third party music sources.
USB Digital Connection for iPod and iPhone on the Front Panel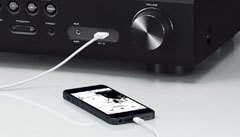 A USB port on the front panel allows convenient connection of an iPod / iPhone, which also charges when connected. Because the digital signal from the iPod / iPhone is transmitted directly to the AV receiver, there is no signal loss or interference, so you enjoy the best possible sound quality. In addition, you can use the receiver's remote control unit to operate the iPod / iPhone music playback functions.
Gapless playback compatibility allows play without interruption*
Many live and classical albums have no gaps in the music. Gapless playback ensures that there are no pauses between audio files. This provides playback with no interruptions, the way it was meant to be heard.
* Compatible with WAV, FLAC and ALAC file formats, and input from USB / PC / NAS.

HDMI with 3D and Audio Return Channel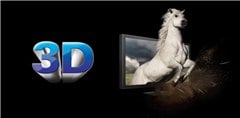 3D means the receiver can handle 3D signal data. The Audio Return Channel function enables data to be sent and received via the same HDMI cable, so you can hear the sound from the TV via a single HDMI cable, with no need for an extra optical cable.
SCENE for One-Touch Start

Pressing a SCENE button powers on the AV Receiver and selects the input source and DSP mode. You can re-set the buttons for different sources by selecting a source and DSP mode, then pressing a SCENE button for more than three seconds.
HDMI CEC for Easy Operation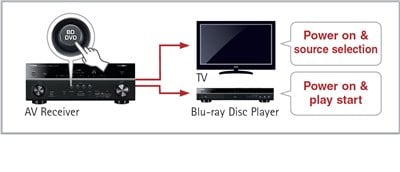 Another benefit of HDMI is the availability of CEC functionality. When the unit is connected to a CEC compatible TV, it will turn on and off together with the TV, and you can use the TV remote to control the volume. CEC also provides advanced functionality with other components. For example, you can use the receiver's remote unit to control player functions like Skip and Stop.
*All connected devices must be HDMI CEC compatible. Some CEC compatible TVs / players may not work.
YPAO Sound Optimisation for Automatic Speaker Setup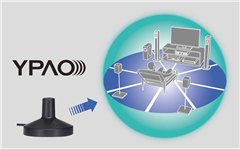 YPAO analyses the room acoustics and adjusts various audio parameters for optimum sound in just a few minutes. It's like having a professional installer calibrate your system.
Virtual CINEMA FRONT Provides Virtual 5-channel Surround Sound with High Quality and Resolution
Even when it is impossible to install surround speakers behind the listening position, Virtual CINEMA DSP reproduces virtual 5-channel surround sound filled with realism, with only two front speakers. With Virtual CINEMA FRONT, you will enjoy virtual 5-channel surround sound with higher quality and resolution by installing surround speakers at the front. You get more flexibility to arrange your speakers inside the room, along with easy enjoyment of high quality surround sound.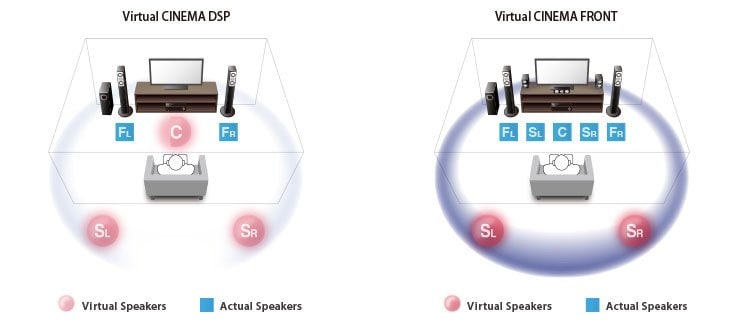 HD Audio with CINEMA DSP 3D and Virtual Presence Speaker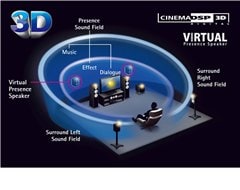 CINEMA DSP 3D provides a wide, high and dense sound field. HD Audio format decoding lets you enjoy HD Audio sources. Virtual Presence Speaker delivers 3-dimensional sound without actual use of presence speakers.
Extra Bass Provides Rich Bass Reproduction, Even with Small Speakers
Yamaha' s exclusive low-range enhancement technology delivers richer bass than you expect from the speaker size while maintaining good localisation and sound balance even with compact front speakers. When a subwoofer is used, it improves the volume of the entire low range of the speaker system, not only the front speakers, but also enhancing the bass from the subwoofer. You'll enjoy video and music with sound that has exceptional power and presence.

Subwoofer Trim for Improved Sound Imaging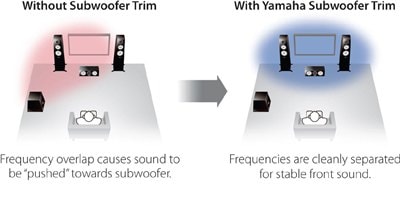 The Subwoofer Trim control enhances the low frequencies by avoiding overlap with the front speaker output. This will result in a cleaner, more focused sound stage while providing a seamless frequency response. When subwoofer frequency overlap occurs in conventional systems, the overall sound is "pushed" toward the subwoofer. Subwoofer Trim takes care of this by separating the low subwoofer frequencies cleanly, thus stabilising the front stage while providing a well-balanced enhanced bass sound.
Compressed Music Enhancer

When music is encoded into a digitally compressed format like MP3, the frequency response suffers. Yamaha's Compressed Music Enhancer employs sophisticated digital signal processing using exclusive algorithms to restore what was lost, so the music always sounds the way it should.
Total Purity Concept for the Finest Sound Quality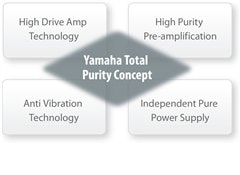 The Total Purity Concept, which Yamaha has been cultivating for many years, encompasses high drive amp technology, high purity pre-amplification, anti-vibration technology and independent pure power supplies. All models have a fully discrete power amplifier that helps to minimise distortion. They also adopt independent pure power supplies, allowing dedicated power supplies for the analogue and digital circuitry to prevent digital noise from affecting analogue circuitry. The anti-vibration heatsinks are designed to suppress vibration from transistors and sound pressure. Independent power supplies for the DACs are designed to further eliminate noise on certain models. Down to every detail, these AV receivers are designed with full emphasis on the highest possible sound quality.
Discrete Amp Configuration for High Sound Quality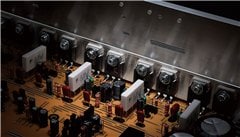 This AV receiver was designed with a strong focus on achieving exceptionally high sound clarity. It employs a discrete amp configuration and a low jitter PLL circuit, which contribute to its excellent audio performance.
ECO mode Lowers Power Consumption by 20%*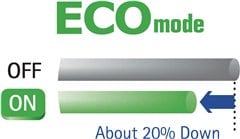 Yamaha's new ECO mode reduces power consumption by about 20%. It can be set from the top of the GUI menu.
* Compared to power consumption when ECO mode is off (Yamaha measurement).
Selectable Auto Power Down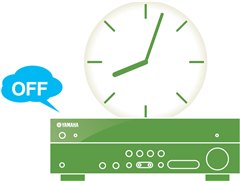 Auto Power Down lets you save energy by selecting to turn off the power after 2, 4, 8 or 12 hours.