Tamara Stefanovich opens London Piano Festival on new Yamaha CFX with Bach, Rameau and Messiaen
Tamara Stefanovich opens London Piano Festival on new Yamaha CFX with Bach, Rameau and Messiaen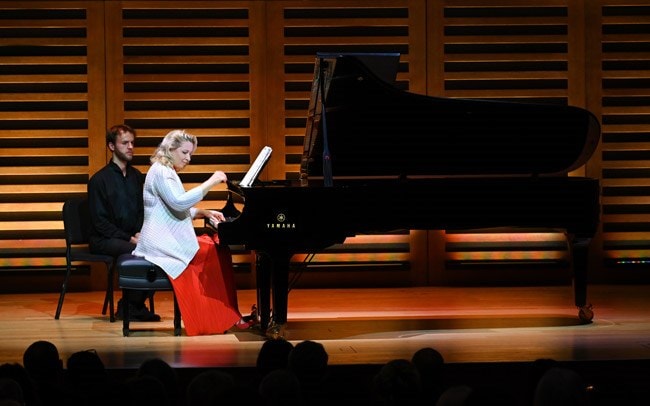 Tamara Stefanovich performed on the new Yamaha CFX at Kings place, London on 6 October 2022. With a programme of works spanning centuries, Stefanovich presented an evening of elegance, tenderness, terror and mighty sonorities on the CFX. In Stefanovich's words, this was a "cocktail of birds, mystical creatures and rhythms galore", and the result was extraordinary, delighting the audience, which included renowned pianist Alfred Brendel, and London Piano Festival Artistic Directors, Katya Apekisheva and Charles Owen.
The innovative programming by Stefanovich demanded a piano which could respond to the artistry and intentions of the pianist. The Yamaha CFX, prepared by Yamaha piano technician Shinya Maeda, was chosen by Stefanovich after being introduced for the first time earlier this year. Describing it as "utterly phenomenal", she expressed high praise for the piano following the concert: "I cannot sing enough praises to the extraordinary Yamaha instrument I was lucky to play yesterday" says Stefanovich, "it is a mix of Ferrari, spaceship and a palette of colours of the best of painters – this is truly a dream to play on it".
Concert reviewers and audience members have praised Stefanovich's performance, in particular her artistic skill in connecting these seemingly distant composers, through rhythm, colour and evocative expression on the CFX. Mark Berry, Seen and Heard International, describes the seamless transition between the likes of Rameau and Messiaen, despite there being nearly 150 years between the two composers' lifetimes, "Indeed, great Scarlatti pianists came to my mind in the display and relish we heard for score and instrument alike. Repeated notes offered a strange yet convincing rainbow bridge between this and the next Messiaen piece".
The performance further challenged the audience to re-examine their perceptions of these famed composers; "The variety of sounds Tamara conjured from the piano revealed to me how highly perceptive Messiaen was of bird sounds" pianist and writer Jeremy Chan shares.
Stefanovich's jaw dropping finale of Messiaen's Cantéyodjayâ brought the evening to an apocalyptic close, as Chan writes: "The piece really tests the piano and its performer to the limits and Tamara went for it without holding back, delivering such a crazy finale the audience had to give her four curtain calls".
As the opening concert to London Piano Festival this was an extraordinary and inspiring performance by Tamara Stefanovich, showcasing the new Yamaha CFX's ability to unite performer and piano to create the most beautiful and powerful music.
"Fearless, dazzling, exceptional" (The Guardian). Tamara Stefanovich is captivating audiences worldwide with her highly elaborated recital programmes, as chamber musician or soloist with the world's leading orchestras. Being passionate about a broad repertoire from Bach to the contemporary, she has performed with the Cleveland Orchestra, Chicago Symphony Orchestra, London Symphony and Philharmonic Orchestras, Chamber Orchestra of Europe, Bamberger Symphoniker and Deutsche Kammerphilharmonie Bremen amongst others. Stefanovich performs at the world's major concert venues including Suntory Hall Tokyo and London's Royal Albert and Wigmore Halls. She features in international festivals such as La Roque d'Antheron, Salzburger Festspiele and Beethovenfest Bonn. In the current season Stefanovich will perform at Musikfest Berlin, Muziekgebouw Amsterdam and in duo recital at Musikfest Herrenhausen.
Tamara Stefanovich opens London Piano Festival on new Yamaha CFX with Bach, Rameau and Messiaen