Interview with the composer of "Felicitous" — Fredrick Schjelderup
Interview with the composer of "Felicitous" — Fredrick Schjelderup
We recently made available the brand-new composition 'Felicitous' by Fredrick Schjelderup which we commissioned for the 2020 Yamaha Band Clinic. We took some time to catch-up with Fredrick and find out more about his approach and what it was like to compose this piece.
"Before I start to compose, it's important for me to know who I'm writing for and what the occasion is. The Band Clinic brings together people from different countries and bands, and everyone has different skill levels, so the piece has to be suitable for a wide range of bands in terms of style, register and technique. When I received the commission, I was asked to write a concert opener. I think everyone enjoys a good overture, and I hope Felicitous will fill the players, conductors and the audience with joy.
I decided to start with a fanfare leading into a faster section. The piece incorporates fanfares, melodic lines and tonal harmony alongside some modern rhythmic and harmonic twists, including Lydian scales. All of these features accentuate the positive vibe and excitement of the piece.
Titles are always difficult, and they are often the last thing that you write down. I felt that the title, Felicitous, was a positive word that described the piece in terms of its harmonics and style.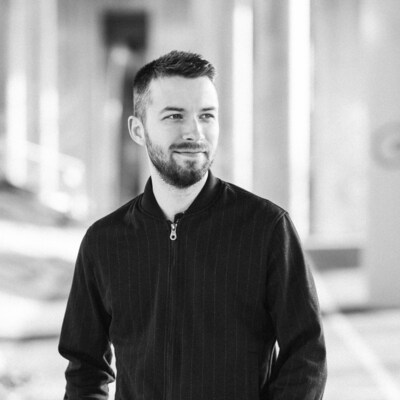 The background behind the commission was to use it as a piece that would be worked on during a Yamaha Band Clinic where musicians and conductors from different bands come together.
"I think it's a brilliant idea to commission a piece for an occasion like the Band Clinic. I think both the band members and the conductors appreciate working with new repertoire. I hope that Felicitous will make a great contribution to the repertoire that bands are playing.
It has also been arranged for Fanfare bands which is something new for Fredrick.
"I've written a lot of music for brass and wind bands over the years, so arranging this piece for fanfare band was an exciting new experience. I think it's a very interesting type of band in terms of the instrumentation and scoring. I'm familiar with all of the instruments from writing brass and wind music, but the scoring process for fanfare bands is different. In addition to reading fanfare scores, I got a few tips on scoring for fanfare bands from Tijmen Botma along the way. Getting started on a new project is always enjoyable, especially when it's a project for a new ensemble. "I want to thank Yamaha Music Europe for giving me the opportunity to write a piece for their Band Clinic (both for brass band and fanfare band). I think that many bands all over the world would like to commission new works, but they don't always have the funding for it. By commissioning new pieces for the Band Clinic, Yamaha Music Europe is giving bands the opportunity to discover and perform new music".
Photo credit: Ganesh Foto
Interview with the composer of "Felicitous" — Fredrick Schjelderup