Yamaha Wins Big at NAMM with Eight Awards for Excellence in Instruments and Sound Gear
Yamaha Wins Big at NAMM with Eight Awards for Excellence in Instruments and Sound Gear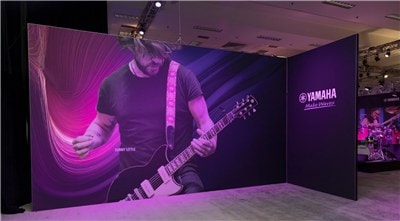 The innovative SLB300 SILENT Bass™ and the user-friendly YBS-480 Baritone Saxophone came away with the prestigious Best in Show award by a panel of industry experts at the annual music products trade event held recently in Anaheim. The award ceremony was held the final day of NAMM and moderated by Frank Alkyer, publisher of Music Inc. and UpBeat Daily magazines.
The SILENT Bass, honored in the "Gotta Stock It" category, is ergonomically designed to include all the touch points of an acoustic upright bass. It has been used on stage by notable performers who note its comfort and its clear, rich and full "upright" sound, which models an acoustic bass played through different high-end acoustic microphones. The YBS-480 - which will be launch in Europe in late 2020 - provides the sound musicians have come to love in a more ergonomically-accessible instrument that is easier for saxophonists to play and hold. Featuring a bore and neck modelled after the 62 Professional model saxophones, the YBS-480 has a detachable peg so that the larger baritone saxophone is accessible to players of all sizes.
Yamaha also earned the distinguished MusicRadar Best of NAMM 2020 award in the "Best Drum Kit" category for the new Stage Custom Hip drum set, a compact version of the company's popular Stage Custom Birch, ideal for the gigging drummer as a lightweight option that allows musicians to discover new sounds for various applications.
The company's accolades were not limited to musical instruments. The NAMM TEC Awards recognized Line 6 in the "Musical Instrument Amplification & Effects" category for the HX Stomp, a professional-grade guitar processor that delivers the sound of Helix® amps, cabs, and effects in an ultra-compact pedal. Line 6 is a Yamaha company.
Completing the list of honors for Yamaha at this year's NAMM Show were no fewer than three MMR Dealer's Choice awards: Acoustic Guitar of the Year (for the Yamaha TransAcoustic guitar), Acoustic Piano Line of the Year and Band & Orchestral Line of the Year. The MMR Dealers' Choice Award honors the finest products and companies in the music products industry.
"We are excited and grateful for the recognition of our innovative instruments and guitar processor at this year's Winter NAMM Show," said Tom Sumner, president, Yamaha Corporation of America. "These accolades reinforce our promise to help musicians progress and make an impact through their music."
Yamaha Wins Big at NAMM with Eight Awards for Excellence in Instruments and Sound Gear