YAMAHA presents a world first: The Clavinova CSP
YAMAHA presents a world first: The Clavinova CSP
World premiere! YAMAHA launches the Clavinova CSP, the first digital piano that can be completely controlled via a smart device.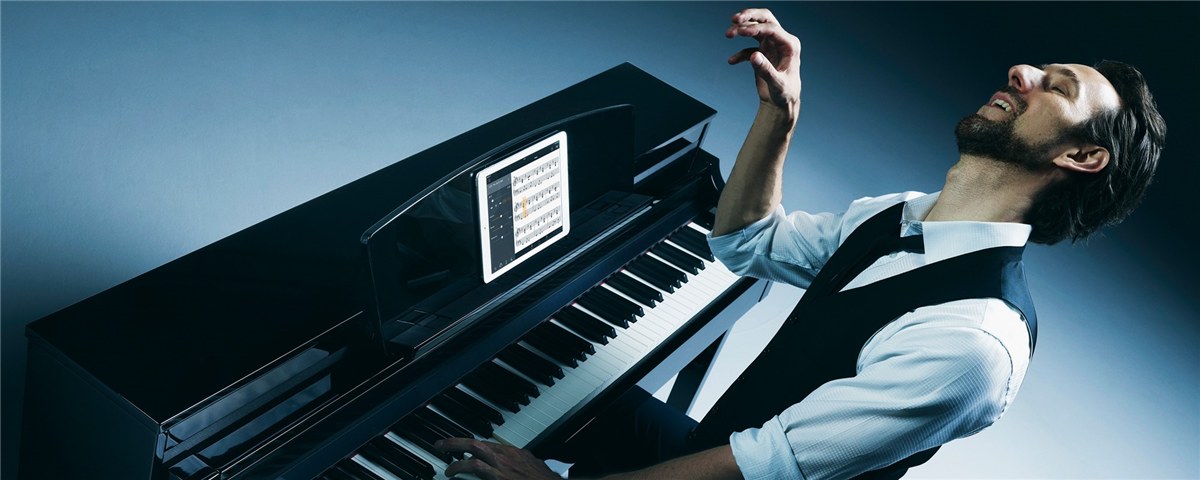 At the beginning of September, the YAMAHA Clavinova CSP will be available from retail outlets. It's going to revolutionise the market worldwide. The CSP is the very first digital piano that can be completely controlled via a smart device. It offers the same intuitive, fast and easy control that we have come to appreciate from our smartphones or iPads. As soon as the Clavinova CSP is connected wirelessly or via cable to an Apple iPad or other specific smart device, YAMAHA's SmartPianist app opens up any number of ways for the user to enhance their playing, select an accompaniment, improve technique or play along to personal favourites. The YAMAHA SmartPianist app gives immediate access to 692 voices, 470 different accompaniment styles and over than 400 songs.
This synergy of smart device and conventional musical instrument is a world first, enabling total harmonic control of an entire band, adjustment of the piano sound according to mood and selection of different tempos.
It's not just seasoned players who will be impressed with this new technology. Beginners will be inspired by the YAMAHA Stream Light System, which makes learning to play the piano easier than ever before. Discreet red and blue LEDs appear above the keys to guide the player through a song. So from the very beginning, even absolute beginners can experience a sense of achievement and joy from playing the piano.
"Thanks to easy to the use smart technology, our Clavinova CSP effortlessly becomes part of any home network." says Tobias Dahm, product specialist at YAMAHA Europe in Rellingen near Hamburg, Germany, "And that is one of the instrument's strongest points. It makes the pleasure of playing the piano accessible to many more people. The Clavinova CSP offers so many ways to play, and that alone makes music making a lot more fun."
For the more traditional pianist, they will be happy to see that the instrument only features two buttons so it retains a classically elegant piano design.
The YAMAHA Clavinova CSP is available in two models:
The CSP-150 and CSP-170 and in three finishes: black, white and polished ebony. The YAMAHA Smart Pianist App for IOS 10.3 can be downloaded free of charge from the Apple App Store from September. An Android version is planned for release in spring 2018.
YAMAHA presents a world first: The Clavinova CSP