Biography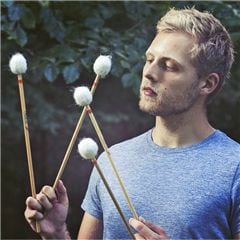 Stian began drumming at the age of seven in a local brass band. It was first at the age of 15 he bought and played on his first marimba, and then started to develop his mallet percussion playing. He is one of the young and talented percussionists in Norway, and is primarily known in the Scandinavian countries, where he has been participating in radio and TV productions, CD-recordings, and been a soloist with various orchestras, including The Norwegian Radio Orchestra and The Prince of Denmark's Brass Ensemble. He has also won several competitions both nationally and internationally.
At the earlier age, Stian was accepted into a talent development program at the The Norwegian Academy of Music, where he was taught percussion by members of The Norwegian Philharmonic, and teachers from the academy. In 2013 he began his Bachelor degree in classical percussion at The Royal Academy of Music in Århus, Denmark, where he now studies.
Recognized for his variety of music styles, Stian also composes and plays a lot of electronical music, and uses the instruments and styles of classical percussion to develop his music. He is also working with musicians representing other genres, from earlier including CD recording with one of the world's best guitarists and rock icons, Ronni Le Tekrø from the group TNT.
Overview: Simone Beneventi is a percussionist dedicated to the study and dissemination of New Music. He works together with several of the greatest living composers such as Battistelli, Billone, Casale and Dufourt.
Percussionist dedicated to the study and dissemination of New Music, he has given solo concert throughout Europe including festivals such Aperto in Reggio Emilia, la Biennale of Venice, Firenze Suona Contemporanea, Gaida in Villnius, Huddersfield Contemporary Music Festival, L'arsenale in Treviso, L'espace sonore Basel, Manca in Nice, Milano Musica.