Biography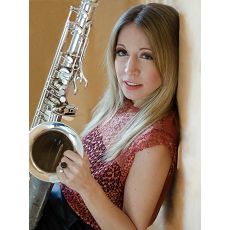 Stephanie Lottermoser started taking classical piano lessons and vocal training at the age of 7, with 14 she started to play saxophone and took lessons with Karsten Gorzel, Johannes Enders, Don Menza and Axel Kühn. She studied jazz saxophone with Leszek Zadlo at the University of Music and Performing Arts in Munich.
From 2000 - 2008 she was a member of the State Youth Jazz Orchestra Bavaria, also multiple winner in the competition "Jugend Jazzt" in the solo and ensemble classification. Since 2009 she is a teacher for saxophone and Combo in the workshop "Jazz Juniors" of the Bavarian State Youth Jazz Orchestra (www.ljjb.de).
So far she released two albums for which she composed and arranged all the music: 2009 "Second Glance" and 2013 "Good Soul" with special guest Joo Kraus. The next album will be released in spring 2015.
Additional to the concerts with her band she´s a member in Michael Riessler's "Big Circle" and in the two projects of drummer Charly Antolini "Charly Antolini & the Ladies of Jazz" and "Charly Antolini plays the Benny Goodman Story". Besides that she workes/worked with Dusko Goykovich, Joo Kraus, Bob Baldwin, Robby Ameen, Harald Rüschenbaum and others.
In 2013 she received a six month scholarship oft he bavarian gouvernment for a stay at the "Cite Internationale des Arts" in Paris. Since then various new projects and collaborations were built that will continue, for example her work with the french / senegalese trio "Manding Kabou" and her playing with the french pianist François Faure.