Biography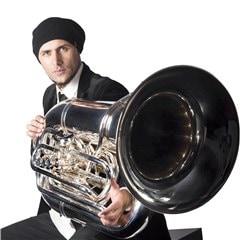 Portuguese tubist and Yamaha artist Sérgio Carolino started his tuba studies at the early age of 11 in Lisbon's Conservatory and continued in the prestigious Superior Conservatory of Geneva (Switzerland) with Pierre Pilloud (principal tuba in the Suisse Romande Orchestra) as well participating in Kurt Sturzenegger's Chamber Music Class.
Sérgio Carolino has attended several master classes also with some the most acknowledged masters of today including Roger Bobo, Michel Godard, Pia Bücher, Philippe Legris, David Taylor, Øystein Baadsvik, Thierry Thibault, Mel Culbertson, Anne-Jelle Visser, Walter Hilgers, Enrique Crespo, Gene Pokorny, and Harvey Philips. His broad and accurate curiosity led him to pursue different styles of musical expression, ranging from the typical classical repertoire to the pure jazz and improvised music, also establishing his reputation as a virtuoso with both standard and contemporary repertoire for the tuba.
He has played principal tuba many orchestras including the Lisbon Metropolitan (1997-2001), Portuguese Symphonic, Gulbênkian, Remix-Ensemble, and several that include the honorable Portuguese Youth Orchestra and the European Youth Wind Orchestra.
He is a member of several different ensembles including the Estardalhaço da Geringonça (gadget 's fuss) Dixieland band (CD Old Tradition, New Ignition),TGB Jazz Trio alongside Mário Delgado (guitar) and Alex Frazão (drums), a trio with Bernardo Sassetti (piano) and Jean-François Lézé (marimba), and the Carlos Barretto Quartet.
Sérgio has appeared as a featured soloist not only in Portugal but also in France, Spain, Germany, Switzerland, the Czech Republic, and Finland. He is constantly on the move as a Yamaha Artist giving master classes and recitals throughout Europe. Recent residencies have included the Real Conservatorio Superior de Madrid, Zürich Höchschule für Musik, 2003 Vigo International Tuba Festival, Lieksa Brass Week, International Brass Master Class in Quimper (France), and the 36th International Horn Symposium (Valencia).