Biography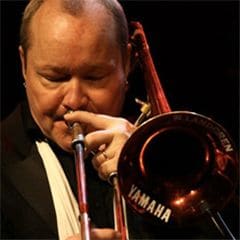 Born in 1956, Nils Landgren began playing drums at the age of six, before at last discovering the trombone at 13. Between 1972 and 1978 Nils studied classical trombone at the music college in Karlstad with David Maytan and at the university in Arvika with Ingemar Roos. Meeting the legendary Swedish Folk-Jazz pioneer Bengt-Arne Wallin as well as the fantastic trombonist Eje Thelin persuaded Nils to move from strict classical studies to improvisation and to begin the development of his own approach
After his graduation Nils moved to Stockholm to work as a professional trombone player. He was soon touring with the most successful Swedish pop star of that time, Björn Skifs' "Blue Swede" who got to number 1 in the US pop charts with "Hooked on a feeling". In 1981 Thad Jones invited the Swede into his new big band project "Ball of Fire", to take the lead-trombone chair. Ever since that time Nils Landren has been involved in most styles equally: jazz and rock, soul and hip hop, big band sessions, and by his own reckoning, at least 500 albums including such internationals stars as ABBA, The Crusaders, Eddie Harris, Bernard "Pretty" Purdie, Wyclef Jean and Herbie Hancock.
1992 saw the first performances and recording of the Nils Landgren "Unit". The final breakthrough beyond Scandinavia came first in 1994: it was at the Jazz Baltica Festival at Salzau in Germany that the "Unit" became the "Funk Unit". The album "Live in Stockholm" (ACT 9223-2) was released that year and was the foundation for the collaboration with Siegfried Loch and his then young ACT label.
Between January 1998 and January 2001 Nils Landgren was also a member of the NDR Big Band in Hamburg, but continuously touring throughout with the Funk Unit worldwide. During this time three albums were released: after "Live in Montreux" (ACT 9265-2) appeared in 1999 "5000 Miles" (ACT 9271-2) and in September 2001 "Fonk da World" (ACT 9299-2), which was presented live at a special 3 day festival in Hamburg dedicated to Nils Landgren's music. The "grooving band, which encouraged the younger members of the audience into a dance frenzy, but which was also taken seriously by the greying jazz snobs" (Spiegel), proved that it could be counted as "the best funk band in Europe today" (Stereo).
As artistic director of the illustrious Berlin Jazz Festival in 2001 Nils Landgren set up a concise overview of the current directions in Scandinavian jazz and was awarded the "Tore Ehrling Prize" by the Swedish Composers' Federation for his "special contribution in bringing worldwide attention to Swedish jazz".
A further aspect of Landgren's multi-facetedness has been shown since 1993, when the album "Ballads" (ACT 9268-2) was recorded, and on its release in Germany in 1999 showed for the first time his talent as an emotional ballad singer. With his tasteful tenor voice he has been compared to the introverted style of Chet Baker. In 2002 he undertook a recording of a sequence of love songs on a "Sentimental Journey" (ACT 9409-2) which was enthusiastically received by public and critics alike. "We want more of this" proclaimed the WOM Journal and so was able to follow this through the production of the album "I Will Wait For You" (ACT 9418-2) where the singer Rigmor Gustafsson – having previously made her name as a guest on "Sentimental Journey" – took centre stage. It stormed into the jazz charts in Sweden and Germany, reaching number 1 and number 2 respectively.
In 2004, after a self-imposed sabbatical of almost two years, Landgren went full steam ahead with his Funk Unit and produced the acclaimed Platinum "Funky Abba" album (ACT 9430-2); his own personal hommage to one of the greatest pop bands in history. 2005 marks the new album "Creole Love Call" (ACT 9707-2) together with the legendary keyboarder Joe Sample of The Crusaders, in which Nils Landgren can be heard again primarily as a vocalist.
2007 brings the Funk Unit back again. The eighth funk album demonstrates the same killer groove as its award-winning predecessors lead us to expect. Nils Landgren definitely has it: the "Licence to Funk".