Lucid Duo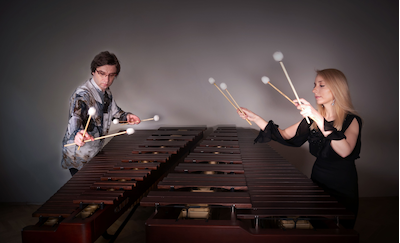 Lucid Duo's performance is an introduction to the wide spectrum of marimba virtuosity. Irena Manolova and Tomasz Goliński are the first prize winning laureates of the Universal Marimba Competition 2011 in Belgium, praised for their amazing degree of sensitivity to sound.
Their success allows them to perform regularly at international festivals and to hold masterclasses worldwide. The duo made an appearance on festivals in Austria, Belgium, Croatia, Spain, Poland, the Netherlands, Germany, Switzerland, Japan, Mexico, amongst which the Festival Internacional de Marimbistas 2019 in Chiapas, Mexico; Midis-Minimes Festival 2018 in Brussels, Festival de Música Contemporánea de Tenerife 2017, performing at venues as the National Olympics Hall in Tokyo, Dolce Artists Salon in Osaka, Japan; Stadschouwburg Leuven, Belgium; Koszalin Philharmonic Hall, Poland; Auditorio de Tenerife, Spain; Austrian Cultural Forum in Berlin; Palais Rasumofsky in Vienna etc. In the recent years they gave lectures in renowned music universities such as the University of Sciences and Arts Chiapas, Mexico; Osaka College of Music, Toho Gakuen School of Music and Kunitachi College of Music in Tokyo, Japan. The ensemble was also invited as a guest jury member at the Japan Percussion Association's Competition 2019 in Saitama.
The marimba duo was formed in 2011 by Irena and Tomasz in Belgium. After graduating Europe´s first Marimba Master Degree at the Royal Conservatoire of Antwerp, the duo believes in bringing the instrument to a further development. Lucid Duo premieres many new works, written by Tomasz for marimba duo, marimba duo with electronics, or double marimba concertos with an orchestra/percussion ensemble. Irena and Tomasz won the Start-Stipendium in 2016, awarded by the Federal Chancellery of Austria, given to outstanding artists, which led to completing their specialization with the Japanese legend Keiko Abe at the Toho Gakuen School of Music in Tokyo, Japan.
Lucid Duo is based in Vienna, Austria and is an Innovative Percussion Endorser, currently collaborating with the Armstrong Music and Arts Agency in Beijing.
"The music of Lucid Duo has a lot of energy and sensitivity and it will make an impression on the audience. They show great promise for the future." - Keiko Abe "Lucid duo, has this fantastic and unique combination of very interesting compositions, joined by impressive virtuosity, musicianship and Slavic souls, that just add to their unique position in the percussive world." - Nebojša Jovan Živković
Lucid Duo plays exclusively on Yamaha marimbas YM5100A.