Biography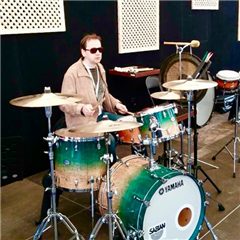 Edin Hadzagic HaDzAgA was born in Sarajevo, Bosnia and Herzegovina in 1973. At the age of 3 he started drumming using kitchen pots and pans helped with cutlery and gathers first experiences with unrecognised bands at age sixteen and took private lessons with educated drummers. During the war period in Bosnia and Herzegovina (1992-1995) he played with almost all bands in sieged Sarajevo.
Within the ending ofthe war his professional career started leading him to play with nearly all celebrities from Bosnia and great names of Croatian and Serbian musical scene. Since June 1999 has been employed by Sarajevo Philharmonic Orchestra as Principal Percussionist-Drummer ( Bosnian State Orchestra ). He has played near thousand classical music concerts. By the same analogy, Edin has played near thousand concerts on an average rock, pop, ethno and spiritual concerts, where he das achieved a great popularity as the lead drummer of spiritual and ethno music concerts with up to 300 musicians and singers at the concert stage.
Has worked on Bosnia Federal Broadcasting with two multi-talents shows as the drummer of the accompanied band.
For the last ten years has played also with the cover band Pakt 5 at hundreds club and private parties.
He has got Diploma The Teacher of Music. (2001) and The Professor of Music (2009) Diploma.