Biography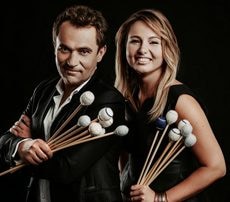 French percussionist and composer Gabriel Collet and Polish percussionist Elwira Ślązak have formed an eclectic and complementary duo since the year 2000.
Gabriel Collet composes symphonic music and film soundtracks as well as a wide repertoire for the duo, and is also an active concert artist.
Elwira Ślązak is a soloist, juror of international competitions and records music for various visual forms (film, radio plays, audio books). The duo goes beyond the musical framework by collaborating with international artists in various fields of art such as theatre, painting and film to create original projects.
For more than 20 years Axoum performs in the concert halls and festivals around the world, such as in Australia, Azerbaidjan, Belgium,China, France, Germany, Poland, Spain, Sweden.
They have been guests at festivals such as the "Ten Days on the Island Festival" (Hobart,Tasmania) where they presented an international collaboration – animation movie "Returning Lives", as well as at the "65 International Chopin Piano Festival" (Poland), "Les Journées de la Francophonie", "International Seoul Drum Festival", "Braunschweig Festival Classix", "X Franz Schubert Music Festival" and Auditorio de Tenerife, Shanghai Concert Hall, European Parliament (as the first ever marimba duo perfoming there), among others.
In 2016, during the "VII J.Waldorff Summer Festival" in Poland, the duo premiered Gabriel Collet's first Concerto for 2 marimbas and symphonic Orchestra "Conversation with a stone" (inspired by the poetry of Nobel poetress Wisława Szymborska).
Since 2010 the duo collaborates with world renowned baritone Marcin Bronikowski, performing original repertoire for baritone and 2 marimbas written by Gabriel Collet Iin between Collet`s 13 Sonets for baritone and 2 marimbas to the poetry of the greatest romantic polish poets Adam Mickiewicz). The artists have also worked with various renowned artists such as Charles Kleinberg (belgian actor), David Friedman (jazz vibraphonist) Janusz Olejniczak (polish pianist), ZengYigang (animator from Shaghai Animation Studio) and have rappeared on albums and recordings of pop artists and in the radio plays.
Axoum's artistry has been featured in the national polish media, including National Public Radio and recordings broadcasted on different radio networks in Europe, China and Australia. The duo also made appearances on different TV shows in Poland. They appeared as jury members in international competitions (Poland, Belgium, Russia), give masterclasses in various countries in Europe and Asia. The duo was a winner of many international competitions such as "VIII International Krzysztof Penderecki Contemporary Chamber Music Competition" (1st prize), II Universal Marimba Competition in Belgium (2nd prize). The artists are recipients of the prestigious European "Prix Luffin" and "The Sir Georges Solti Foundation" grants.
The Artists hold degrees with the highest distinctions from the Royal Conservatory of Music in Brussels and the Royal Conservatory of Music in Antwerp, Postgraduate Concert Soloist studies (marimba).
Their first CD recording with new music "Axoum New music for two marimbas" has been released in 2007 with, among others, three first recordings of the original pieces written for marimba duo. It has received enthusiastic reviews in France, Belgium, Japan and USA.
The artists perform on Yamaha 5100A marimbas.