Yamaha Synth 40th Anniversary

MOXF New OS V1.10 update
MOXF New OS V1.10 update
Main Enhancements
OS V1.10 allows connection to iOS. The MOXF6 and MOXF8 can be used by CC (Class Compliant) .
You can use Stereo Audio In/Out and MIDI In/Out with iPhone and iPad* through Apple's Lightning - USB Camera Adapter.
Combining the MOXF with an iOS audio application, such as Cloud Audio Recorder, you can get a mobile audio recording solution.
* The confirmed operability is for version 7 or later, and is limited to iPhone5s (A1453、A1457、A1518、A1528、A1530、A1533), iPhone5c (A1507、A1516、A1526、A1529、A1532、A1456), iPad mini retina display models (A1489, A1490, A1491), iPad Air (A1474, A1475, A1476), and 4th generation iPad (A1458, A1459, A1460).
The text in parentheses above indicates the model numbers, and they are listed on the back of the main body of the iPad.
NOTICE:
When transmitting and receiving MIDI/audio data on the Mac and Windows platforms, make sure to install the Yamaha Steinberg USB Driver.
When updating the firmware to V1.10 or later, make sure to use the Yamaha Steinberg USB Driver version 1.8.6 or later.

Other Fixes
When polyphony is relatively large, the problem that some notes may have been delayed was improved.
Solved a problem that operation might freeze When an empty waveform is selected and a continued note-on message is received with the XA control set to KeyOffSound in Voice Element Edit.
Fixed a problem in which arpeggio output, excluding the recording channel, was recorded in Song recording.
Solved a problem that the part designation of parameter change became Part 1 at all times when operating a knob, when Local Control was set to Off.
Solved a problem that SysEX messages which were received over a port other than Port 1 were recorded to a Song.
Solved some other minor problems.
Download
Cloud Audio Recorder

Cloud Audio Recorder allows you to record the sound of musical instruments to your iOS devices via the built-in microphone.
The recorded data can be normalized, trimmed and signal processed on the iOS devices. Recorded data can be freely uploaded to or downloaded from SoundCloud. Also you can copy & paste your sound to another iOS apps.
Features
Recording & Share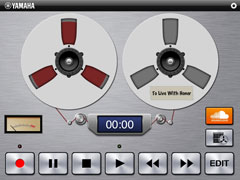 Record the sound of musical instruments to your iOS devices via the built-in microphone. Each recording max is 30 minutes. (Wav, 44.1KHz, 16bit)
Share it on SoundCloud. Copy & Paste audio files between iOS apps (AudioCopy)
Wave Edit
Easy wave editing function (trimming, normalizing) Signal processing is available. (Equalizer, Noise Suppression, Reverb, Gain) Undo function.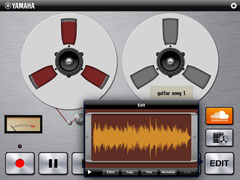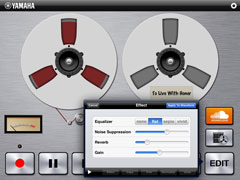 Yamaha Synth 40th Anniversary

MOXF New OS V1.10 update