Discover music with Yamaha
Discover music with Yamaha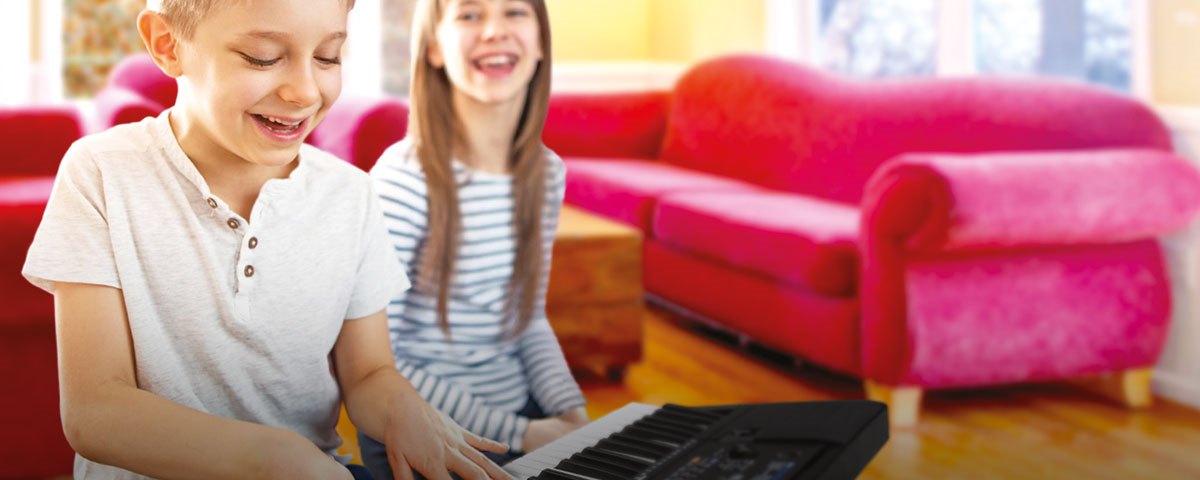 Even your first musical steps are a smash-hit with a Yamaha keyboard!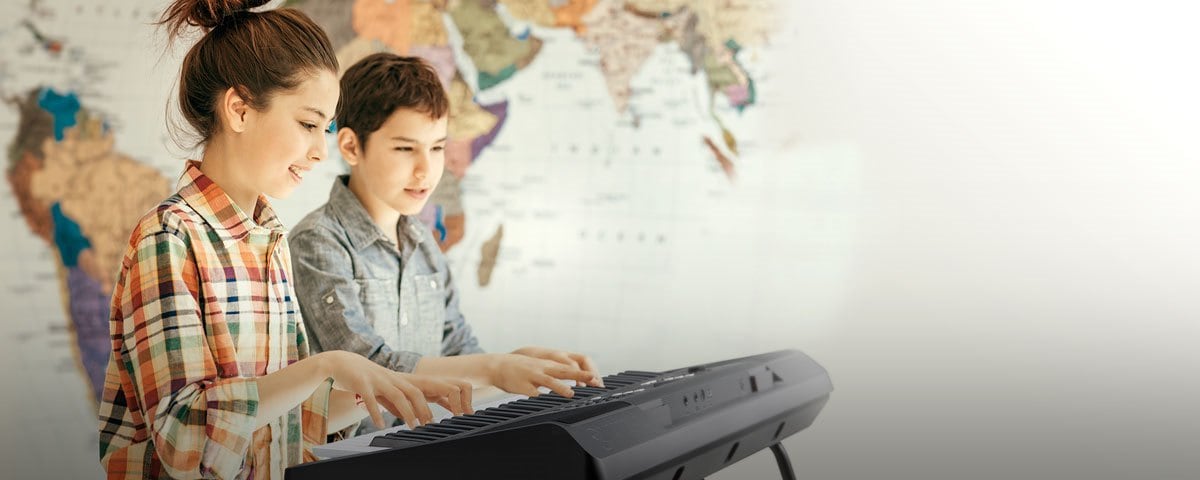 Two people playing the keyboard at the same time? No problem with duo mode!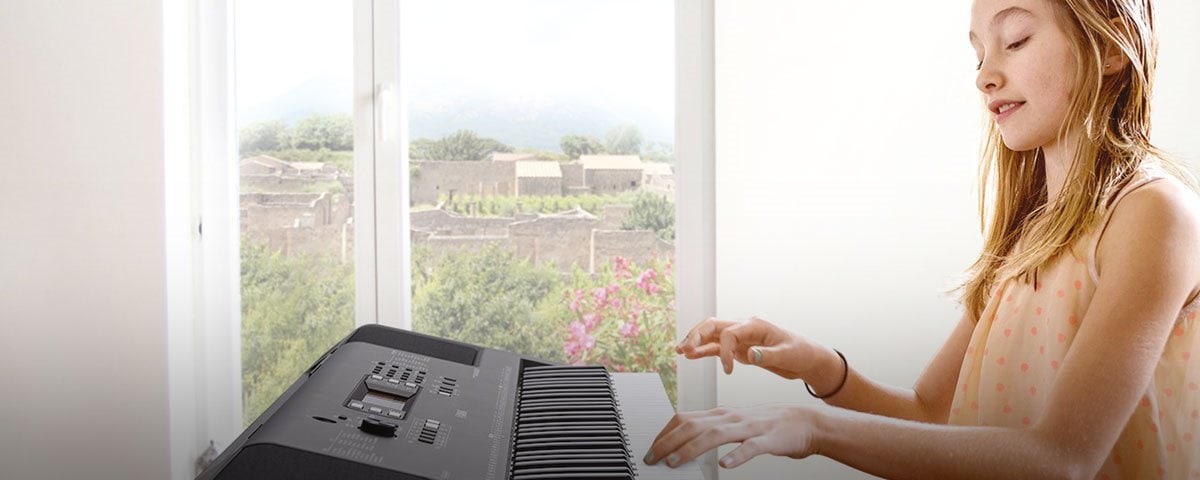 Yamaha keyboards offer endless possibilities in sound!
Music – the door to a new world
Parents know that playing an instrument enriches your life! Music is a form of communication which spans the globe, transcending borders and languages.
Music encourages children to discover the world. Learning to play an instrument is beneficial in so many ways: It helps with focus and memory skills as well as enhancing motor functions and general comprehensive skills.
Music strengthens camaraderie as well as a sense of belonging and lets children find their place in society.
Is there anything more beautiful than watching children rejoicing in their progress and success?
Yamaha instruments are like companions – dependable friends for children and adolescents alike; whether they are beginners or already have some musical experience.
Yamaha keyboards
The ideal entry point
The current range of Yamaha keyboards offer a wide range of musical and technical possibilities, ideally suited for your first musical steps.
Multifaceted and versatile
With a Yamaha keyboard your child not only gains an instrument but an entire spectrum of instrumental sounds.
The different "voices" offer a wide selection of acoustics – ranging from wind instruments and strings to percussions and drums. Even more variety is provided by the "Styles". These are accompanying patterns for a multitude of musical styles, like pop & rock, R&B, swing & jazz, country or waltz.
Last but not least, the connectivity to apps and services leads to even quicker results.
Enter the world of Yamaha
With its ease of use and straightforward design, the PSR-F51 provides your children with everything they need for their first musical steps.
Our entry-level model in the PSR-E series, the PSR-E-263A, offers a multitude of additional features, like tutorials, all sorts of Voices and Styles plus the possibility of recording your own music.
These slim and compact instruments can be operated with batteries and are ideally suited for mobile use.
Keyboards like the PSR-E363 and the PSR-EW300 possess touch-sensitive keys. A heavy touch generates loud sounds, whereas a soft touch will produce delicate tones. This allows for a whole new world of musical expressions and emotions. What's more, your child will be perfectly prepared for musical school – since instruments with touch-sensitive keys are common there.
The tutorial "Keys to Success" will show you how to play entire songs by yourself in easy step-by-step lessons. The duo mode allows two people to simultaneously play the instrument. Plus, the PSR-EW300 has 76 keys – 15 more than the PSR-E363. These additional keys allow you to play more complex musical pieces.
Entry-level models with a professional touch
Even more Voices, even more Styles: Yamaha keyboards like the PSR-EW410 (with 76 keys) and the PSR-E463 (with 61 keys) offer a plethora of further stylistic flourishes.
Professional features like "Quick Sampling" and "Groove Creator" let you take a trip into the exciting world of DJ's.
Powerful speakers create a clean and impressive sound – for your first public performance!
600,000 students of all ages, 20,000 teachers and 6,000 locations in over 40 countries worldwide: These impressive numbers show the success of the Yamaha Music Schools, which have been offering musical education for over 50 years.
Whether it's learning to play an instrument, reading music or improvising – Yamaha Music Schools cover all aspects of music. Of particular importance to us is children's musicality. We offer courses for children from the age of 4 months, specifically catering to their musical talents. Just click below to find a Yamaha Music School near you!
Start playing keyboards at once – with Flowkey!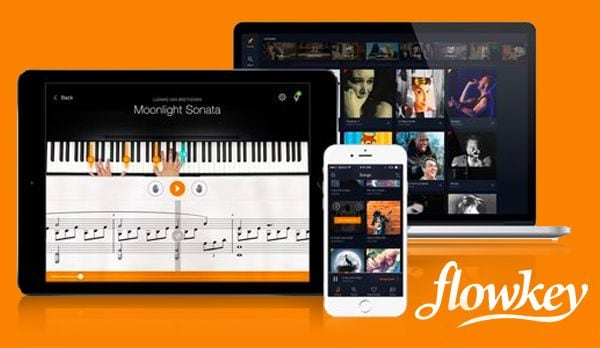 With flowkey your children are able to perform their first song within minutes.
Flowkey is one of the world's most popular apps for learning to play the piano and keyboard. It's also perfectly tailored to the user's skill level. With your Yamaha keyboard you will have access to a huge selection of song tutorials and lessons as well as hundreds of songs.
For a limited period of time every purchase of a qualified Yamaha keyboard or Yamaha digital piano will come with a three-month access to flowkey premium – absolutely free!
Discover music with Yamaha