Biography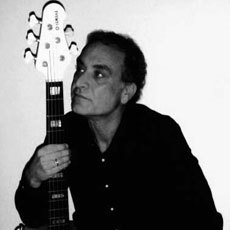 Graduate of Berklee College of Music, Bachelor of Arts in Film Scoring 1988.
He was living in Boston for 10 years, working in the music scene as composer and performer in various jazz and rock bands.
He followed his career in The Hague, Holland, where for 2 years he was involved in composing music for documentaries and short films.
He returns in Greece in 1990 and is working in Athens as a performer, playing bass with several Greek singers, as well in Greece as abroad.
He also works as a session player, participating in the recordings of over 50 cd's of various styles of music.
He is an organizing member of The Foux Orchestar, a 60 member orchestra, combining classical and modern instruments.
For 4 years he was teaching film scoring at the film department of the Aristotelio University of Thessaloniki.
Since 1995 he is a professor at the Philippos Nakas Conservatory in Athens.