ANDREA TOFANELLI INTERVIEW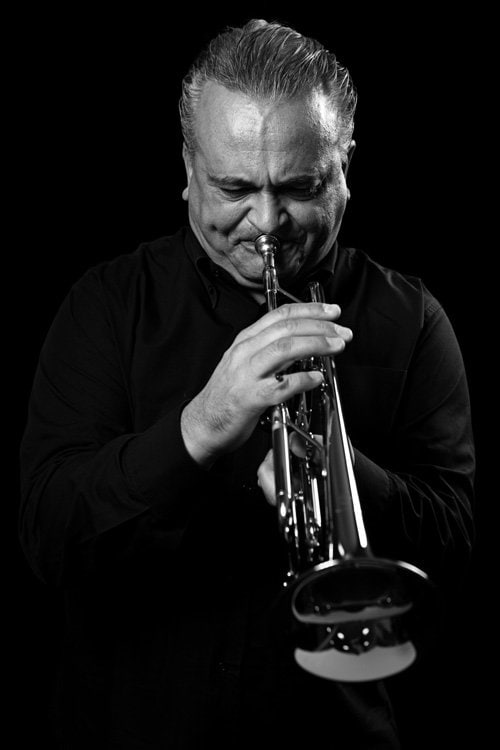 Andrea Tofanelli was born in Italy in 1965. He graduated cum laude in 1987 at the ISSM L. Boccherini in Lucca with full marks. He has performed with Maynard Ferguson, Randy Brecker, Eric Marienthal, Claudio Roditi, Peter Erskine and Kenny Wheeler to name just a few. He performed at the Maynard Ferguson Tribute in St. Louis. Over the last 25 years, he has performed in hundreds of TV shows, recorded as session musician in movie soundtracks, TV commercials, Gold and Platinum albums and videos for the most elite recording studios in Italy. He has collaborated with the Paul Anka orchestra and Gino Vannelli, and has performed in Italy with international pop artists such as George Michael, Burt Bacharach and Gloria Gaynor. He regularly performs and gives master classes all over the world. Andrea is Professor of Trumpet at the ISSM Vecchi-Tonelli in Modena and Professor of Jazz Trumpet and Brass at the Fiesole School of Music in Florence (Italy).
How would you normally create music and connect with your audience?
Well, in my mind performing, recording, composing, arranging and making music are all different ways of achieving the same goal: creating music. In day-to-day life, I usually have concerts, tours, masterclasses, clinics, conferences, sessions in recording studios, TV shows and more. I am mainly a performer and a teacher, so the audience can differ. It can be made up of people who want to listen to good music and special specific performances, or it can be made up of students listening more to the technical side of the trumpet. This often affects and changes the repertoire that I play and the way I approach the concert. The way I built up my playing style and my career has a lot to do with the energy in music, being a fan and friend of the legendary Maynard Ferguson and loving the work of all those exciting, incredible trumpet players like Bill Chase, Cat Anderson, Dizzy Gillespie, Roy Eldridge, Harry James, Lee Morgan, Clifford Brown, Bobby Shew, Arturo Sandoval and Allen Vizzutti. Maynard taught me to give the audience joy through the positive energy of the music. I learnt from Giacomo Puccini's Opera Arias to express emotion as much as I can in everything I play (I was born, grew up and still live in Torre del Lago in Tuscany, Puccini's favourite town, which hosts a summer opera festival). The combination of these two important things is key for me in making a strong connection with the audience. My goal is for people to forget everything for the duration of the show, so they can go home happy and with positive energy for the following day.
Technology and social media allow us to reach and interact with a wide audience. How have you found the experience of working with the #YamahaLiveFromHome initiative?
Nowadays, we rely on technology and social media in society and daily life. They help us communicate and keep people informed. In this period they have been more crucial than ever, enabling communication around the world in order to save lives. Through technology and social media, music has also once again sent a powerful and emotional message of support, consolation and hope, flowing around the planet. The #YamahaLiveFromHome initiative has been a chance for me to be part of that precious message, and my personal experience with it has been totally overwhelming, in some ways unexpectedly more emotional than a concert in front of a real audience. The most important thing is the emotional side of the event. No special effects, no lights, no stages, no big shows: just the artist. Then, there is the musical challenge: just the audience and the artist, alone in front of the screen without tricks or safety nets. A pure live performance connecting people and artists is something that can really be defined as a completely intimate moment. This means using something not human, like technology, to emphasise a human moment even more than is possible live, connecting the virtual with reality to the highest level.
What role does music play in your life?
How can I describe the role of music in my life…its role is too great and means too much to express. I was 4 years old when my family discovered the influence of music on me. It started with music for kids and moved very quickly onto Puccini's opera music, passing through a strange album that my older brother brought home of Beethoven's music played in a psychedelic hard rock style by an American group called Vanilla Fudge. That music made me act like a madman, making me jump around in my room and act like a conductor in front of an orchestra. It was stronger than me, I couldn't stop. My father played the E-flat bugle in the town wind band, so I soon discovered a multi-coloured musical world of Italian opera music, marching band music and jazz swing. When I started to play the trumpet, music became the trumpet itself. From that point, music and the trumpet became irreplaceable in my life. It's my job, my hobby, my passion, my purpose, 24 hours a day with memories of my family. I feel happy being a musician and trumpet player. It's exactly what I wanted to do in life.
Thanks to the internet today, we have an endless choice of videos, music and educational material. We sometimes face a so-called "paradox of choice", with difficulty focusing on and selecting what we want to play and listen to. What would you recommend to music lovers who want to improve their knowledge?
Music is free and very democratic: there is space for everyone, from amateurs to well-known artists. Like football or cooking, everyone has their own opinion about it. We cannot change this, if we did, we would stop the music itself. It's good to have choice, and it's bad to have no choice. Today, the Internet gives us space for everything we do, including music, so the music available has become unlimited too. It's a good thing in my opinion. One of my tasks for the ITG Board over the last few years has been finding and selecting new talent and new artists for the ITG Conference. I enjoyed it very much! There are so many incredible musicians around the world, and we probably could not discover them without the Internet. As for the educational element, my experience is that students know very well where they want to study, which teacher and which artists they want to follow. The unlimited choice is not important for the serious professional musicians or for the serious students. If you want to study music seriously, you know that you have to choose the best teachers and the best music institutions. I think the unlimited choice is more interesting for amateurs, who just play music for fun. The Internet is like an enormous theme park for them. So, my general recommendation is to have fun researching and finding new things on the Internet, but if you decide to play music professionally, immediately look for the best teachers to get lessons. Online lessons can be a good choice too, if you live too far away, but a live lesson is always preferable if possible. Don't waste time!
If you have any future projects or record releases you want to share with us, please add the links below. Spotify link or other links
A new CD of Puccini's work in jazz will be released soon, trumpet and piano. Then some original music from the Yamaha European Trumpet All Stars, with European trumpet stars like Frank Brodahl (Norway), Ingolf Burkhardt (Germany), Patrick Skogh (Sweden) and Jacek Onuszkiewicz (Poland). Also a couple of new CDs under my name with original new commercial music for trumpet, a live recording in a jazz trio and a big band album with new pieces. Probably a classical album, trumpet and piano. As for live concerts, I'll promote the Maynard Ferguson Tribute with the small/big band, then the All Around Trio with trumpet, Hammond organ and drums, "Puccini in Jazz" for trumpet and piano and the Yamaha European Trumpet All Stars group. Another two interesting projects are the Maynard Ferguson Tribute with the Dizzy Boyz Brass Band, a very energetic Polish band with a great show, and a really original tribute to music by Sun Ra re-arranged into a trio version (trumpet, piano and contrabass), "A Sound of Joy". As for educational projects, I teach a "concert-lesson" exploring the history of jazz through the best-known jazz trumpet artists, and I get so many requests for a trumpet method. The only problem is having enough time in the day to do everything (perhaps 36 hours in a day would suffice)!
Please give us your quote for #YamahaLiveFromHome
Artists and audiences worldwide come face to face, straight at the heart of the music.