MANUELE MONTESANTI INTERVIEW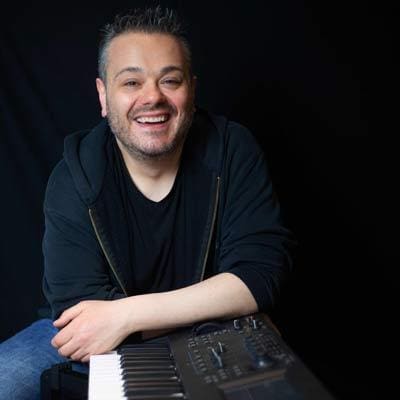 My musical adventure started as a game when, in 1985, my parents bought me a beautiful "toy": a piano. I had classical training at the National Academy of St Cecilia in Rome, but I remember it was a very hard experience... and only after realizing that my world was a little bit different from everything I had studied until then, I decided to fully dedicate myself to synthesizers and to the "modern vision" of my piano... So I specialized in Jazz/Contemporary Piano, Harmony, Comping, Composition and Arrangement at UM "Università della Musica di Roma". I am a "pianist, keyboardist, programmer and sound designer". Today, I work as "session man" (live&studio), arranger, sound designer and demonstrator both for musical productions (soundtracks, video games, apps, etc.) and for the development and the promotion of software and hardware products such as Yamaha Synthesizer, Native Instruments, Novation, IK Multimedia, AudioThing etc. I am a teacher and founder of my website lezionipianoforte.net. Drift-Lab is my musical project: I produce the music I want with who I want.
How would you normally create music and connect with your audience?
To tell you the truth, I've always had an equal interest in both music and technology: I was brought up on synthesisers and computers have been my bread and butter since I was 10 years old! This just helps explain that I create 100% of my music digitally, using my DAWs and synths. I've been using the Internet for almost 30 years — I use the web and all the technologies connected to it for 90% of my musical work.
Technology and socials, allow to reach and interact with wide audience. How has your experience been collaborating with the #YamahaLiveFromHome initiative?
It's been a wonderful, effective, fun and, above all, a cultural initiative in all respects. There are no barriers to live streaming, and your music can travel around the world in seconds. Live From Home marks the beginning of a new approach to how we make and share music.
What's the role of music in your life?
I am a pianist, keyboard player, producer, programmer, sound designer and teacher. I do most of my musical work in the studio: from composing and developing new sounds to teaching and education in general.
Thanks to the internet today we have a limitless choice of video, music and educational material. Sometimes we face the so called "paradox of choice" , with the difficulty to focus and select want we want to study, listen and play. What would you recommend music lovers to improve their knowledge?
It's true, we really do have everything at our fingertips now. Whatever we want, it's ready and waiting for us online, whenever and however we want it. However, it's important that we appreciate everything that's on offer to us, and to do this, we need to start by looking at the origins of what we're listening to. Today, there are huge artists making amazing music... but are we so sure that this would have happened without Bach, Mozart, Debussy, Zappa, Miles and so many other musical geniuses? This is my advice: Let's try to learn about the origins of what we're listening to and really study them. Music is a part of culture and so it must be studied in a very specific way... then all the online tutorials and exhibitions can come after.
Please give us your quote for #YamahaLivefromhome
Let's meet with the music…