SIMONE GIANLORENZI INTERVIEW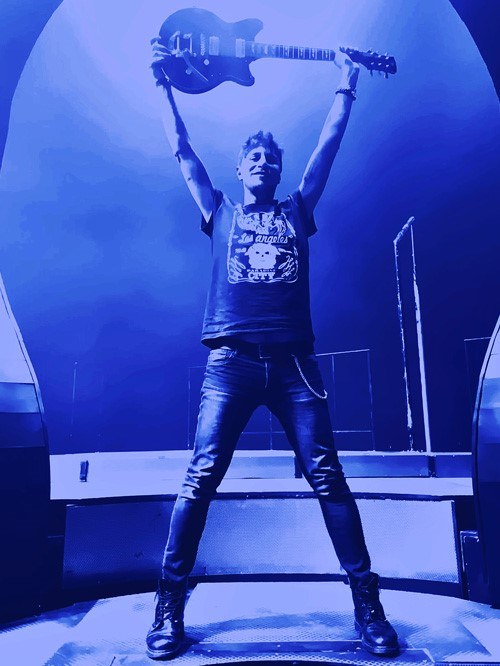 Simone Gianlorenzi is an Italian guitarist and producer. He has just finished a long European tour with the American superstar Anastacia in the musical We Will Rock You. He is a pop rock guitar teacher in the music conservatories of Salerno and Monopoli. He has an instrumental album entitled About Her and three educational DVDs. He has collaborated with Yamaha and Line 6 as a demonstrator since 2014.
How would you normally create music and connect with your audience?
I usually do pre-production in my home studio, working on the melody and the main themes. My music has to be very melodic and not too busy. My main aim is to let everyone enjoy my songs, not only guitar lovers. I like to think of my music as that preferred by guitarists' girlfriends! When pre-production is done, I send the tracks to my fellow musicians to record the drums and bass and then the productions. Usually the musicians who record and play my songs give me a new perspective and new ideas about them. I like interactions between musicians. When the album is ready, I organise a live presentation to take it to people directly. This is what I did for my first record and what I will do for the one to come. I have two more ready that will be released later this year.
Technology and social networks allow a wide audience to be reached with whom the artist can interact. How has your experience been collaborating with the #YamahaLiveFromHome initiative?
It was very cool! I loved live streaming but it was a little bit strange because you don't feel the presence of people in front of you, the looks, the breaths. I didn't know until the live streaming ended, and I could read the comments, just how many people viewed my live performance.
What's the role of music in your life?
Music is my entire life. It seems obvious but it is so. Usually people who do another job come home in the evening and relax by playing or listening to music in their free time. This is not the case for those like me who do this job. I have the guitar in my hand and music in my ears all day for work. When it is time to relax, I do the same....playing or listening to music! So music is 100% my life!
Thanks to the Internet, today we have an unlimited choice of videos, music and educational material. Sometimes we face the so called 'paradox of choice', making it difficult to focus and select want we want to study, listen to and play. What would you recommend to music lovers to improve their knowledge?
Aha! I find that this is the main problem nowadays for music students, being able to focus on the right things to do and doing them. The only advice I can give is that it doesn't matter how much you do, but how you do it. It makes no sense to purchase and download all the manuals in the world if you have study only a small part of them. I think the most obvious solution to this paradox is to play and listen to what we really like and not what we should like. Another problem also concerns the quality of the material you are looking to study. If you decide to study from a tutorial on YouTube you should do it, but choose a well-made one, not the one that has the most views or eye-catching graphics.
If you have any future projects or record releases you want to share with us, please add the links below. "Spotify link"; "Other link"
A few months ago, I released a new single. It's an instrumental rock cover of Anastacia's Left Outside Alone, a tribute to the American singer after playing with her. Two new albums are on the way….so stay tuned!
Please provide your quote for #YamahaLiveFromHome
Thank you for involving me in this extraordinary initiative enabling me to bring my music to people's homes. Playing from the comfort of my own home was exciting and difficult, perhaps even more so than being on a real stage...but it was worth it!