ANDREJS OSOKINS INTERVIEW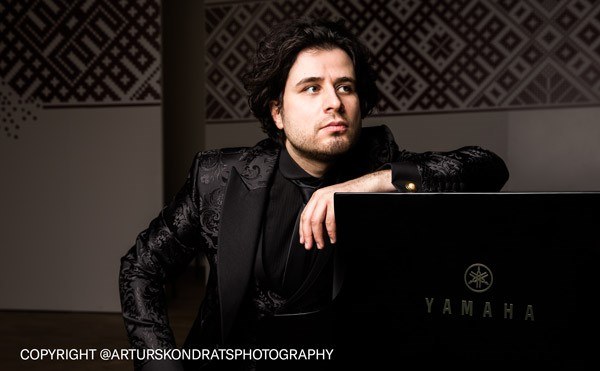 Latvian classical concert pianist Andrejs Osokins is a laureate of the world's most prominent piano competitions, including Arthur Rubinstein International Piano Master Competition in Tel Aviv, the Long-Thibaud International Competition in Paris, the Leeds International Piano Competition and the Queen Elisabeth International Piano Competition in Brussels. He was described by critics as impeccably stylish, praised for his powerful intellect and charisma, wide expressive sound palette, notably convincing in many different styles of music. Mr. Osokins is an Associate of the Royal Academy of Music (ARAM), London. He graduated Royal Academy and Latvian Academy of music both with Masters degree in Piano Performance. Andrejs' performance diary has included recitals in many high profile recital venues including the Berlin Philharmonie, the Konzerthaus Berlin, Frankfurt's Alte Oper; Milan's La Verdi concert hall, National Concert Hall in Dublin, Royal Festival Hall and Wigmore Hall in London.
How would you normally create music and connect with your audience?
Mostly with real life concerts. Without them, performers have to find other ways to share our gift and connect with people who are waiting for beautiful music, as it gives them hope and strength to go through these difficult times. I feel, that performing great music is the only way to express an eternal love, the love which is stronger than death. When people are inspired by beauty and are hearing the voice of music, it gives them the hope we need so much to build a better future.
Technology and socials, allow to reach and interact with wide audience. How has your experience been collaborating with the #YamahaLiveFromHome initiative?
It is a fantastic opportunity to share your performance with people who are also inspired by Yamaha, by its beauty and technology put together. I am very excited and motivated, because my piano playing will have the enormous color palette of Yamaha CFX, that it provides to any pianist, who is dedicated to the profession.
What's the role of music in your life?
It is difficult to describe. I would say that music is my life, but music is also much bigger. So I am happy to be a little drop in that gigantic ocean of music - the ocean of beauty and creativity. Music is an essential part of our civilization. We must protect music, make it flourish and give it all we have. That is what gives my life purpose.
Thanks to the internet today we have a limitless choice of video, music and educational material. Sometimes we face the so called "paradox of choice" , with the difficulty to focus and select want we want to listen and play. What would you recommend music lovers to improve their knowledge?
Try to find music, art and personality which inspires personally you, which takes your breath away. Be always creative and go with your heart rather than with your mind. Think about the originality of your work and uniqueness of your life, which is your and only your precious gift. And listen to great music as much as you can!
Please give us your quote for #YamahaLivefromhome
Love is stronger than death and hearing the voice of music will give us the hope we need so much to build a better future