'I'm A Hero' Campaign Wins Wooden Pencil in the 'Brand Expression in Moving Image' category at D&AD Awards 2019
'I'm A Hero' Campaign Wins Wooden Pencil in the 'Brand Expression in Moving Image' category at D&AD Awards 2019
We are honoured to be awarded with a wooden pencil from the D&AD Awards 2019 in the 'Brand Expression in Moving Image' category for the Yamaha 'I'm A Hero' programme.
"In Medellín, Colombia, issues of poverty and inequality threatened to bar opportunities to children living in the city's slums. To help these children realize the strength to rise above their circumstances, Yamaha invented a new instrument that was resilient enough to survive in a run-down environment, and taught the children how to play the instrument over the course of 6 months. Yamaha then arranged for the children to perform the national anthem at a major football match. During the program, the children began to act and think more confidently."
You can watch the full documentary below.
Find out more about our 'I'm A Hero' programme here:
And read more about the award here:
I'm a HERO Program - With an instrument in hand, you become a hero
Throughout the world, children face invisible barriers that limit their futures—inequality and poverty, as well as discrimination, prejudice, and other disadvantages that these problems cause.
The I'm a HERO Program encourages children to take center stage in overcoming these invisible barriers, to support them to become a hero, an icon of fighting against and overcoming adversity, through a significant challenge, to perform in a big stage.
26 children who participated in this program were from the ages of 7 to 13, most of them living in a slum area within Medellin, Colombia, where crimes happen every day.*
* Please see "The reasons we chose Colombia as the stage - Latin America and their social music actions" for more details
The beginning of this program centered around a brand new instrument, Venova, for children with little or no experience playing an instrument before. They put their best effort to learn how to play the Colombian national anthem with this reed instrument which delivers the feel of a conventional wind instrument and easy fingering as that of a recorder.
However, their hard work for over half a year was not easy. In the slum area, you have to face the physical challenges to get to cities and practice every day. With kindness and sometimes strict support from their families, they finally faced the big day.
Yamaha will continue to believe in the power of music and face social challenges in various ways through our activities.
Scenes in Medellín, Colombia where some of the kids in this program are living
A participant, Luidison Morales Borja, practicing Venova and his family supporting him
26 heroes perform the national anthem in the Atanasio Girardo studium
Venova™: A new wind instrument that is sturdy and easy to maintain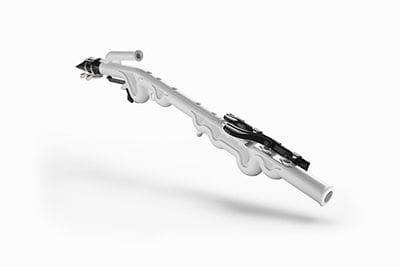 Venova was developed with the philosophy of creating more music makers. The Venova delivers a sound that is very similar to the saxophone, without the complicated structure and the multitude of parts. In contrast, the branched-pipe structure and shorter body thanks to the sinuous shape make the Venova a compact instrument with only as many keys as needed. It is made of lightweight, sturdy and washable ABS plastic, so it can be taken anywhere with ease. While the fingering is as easy to learn as that of a recorder, the Venova is a genuine reed instrument that delivers the feel of a conventional wind instrument.
'I'm A Hero' Campaign Wins Wooden Pencil in the 'Brand Expression in Moving Image' category at D&AD Awards 2019