MusicCast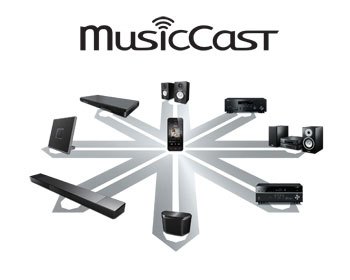 MusicCast is a new revolution in network audio, use all your MusicCast products together or separately, it's completely up to you. Control it, all from one app, designed to be intuitive, quick and simple to use. Use a soundbar, a wireless speaker, an AV Receiver, HiFi audio whichever suits you best, mix and match then expand your MusicCast system as time goes on. All new from Yamaha, the MusicCast system brings everything to everywhere for everyone.
MusicCast Expands Entertainment Possibilities

MusicCast employs a high performance wireless network to deliver music and audio enjoyment. It can stream digital music content from your smartphone, PC or NAS to other MusicCast devices in your home. It can also share the music from external devices such as a TV or BD player connected to the YSP-1600. Audio content from Bluetooth-connected smartphones or tablets can also be streamed to MusicCast devices in multiple rooms.
Enjoy music via Bluetooth® and from streaming music services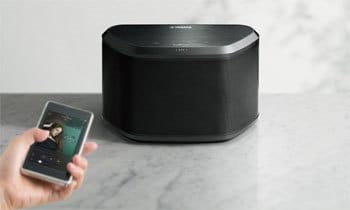 Stream music directly from your smartphone or tablet via Bluetooth or AirPlay, and enjoy unlimited content from commercial streaming services. Use the MusicCast CONTROLLER app to pause/play and adjust the volume from your smart device.
* Streaming service availability varies by region.
Bluetooth output for convenient music streaming

The WX-030 and YSP-1600 are equipped with the latest Bluetooth technology, making wireless operation more convenient than ever. You can stream music from the WX-030 or YSP-1600 to Bluetooth headphones for private listening or to Bluetooth speakers.
Wireless Music Streaming via Bluetooth or AirPlay

Enjoy music from your smartphone or tablet wirelessly using a Bluetooth connection. You can also use the convenient AirPlay function for wireless music streaming from iPhone or iPads. In addition, a Bluetooth standby mode provides the convenience of having the YSP-1600 turn on and off automatically.
Easy setup with your smartphone or tablet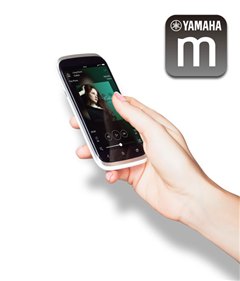 Use your smartphone or tablet together with the MusicCast CONTROLLER app to operate the speaker and change settings quickly and easily. The same Controller app functions as a remote control for all your MusicCast-compatible devices too.
Stereo Pairing Using Two Units

Two WX-030 units can be paired via the MusicCast app to function as left and right channel speakers, providing stereo sound for a wider listening area.
Richer sound and deeper bass in a tiny package

The amazing sound is thanks to the two-way speaker design coupled with Yamaha's DSP magic. A large passive radiator is the secret ingredient that enables deep bass to be produced from such a compact unit, while the onboard Music Enhancer smoothing out the stretched-out highs and muddled mids associated with over-compressed MP3 files. High-quality formats such as WAV, FLAC and ALAC are also fully supported. From pop to rock—everything sounds as it should.
Clean design, refreshing ease of use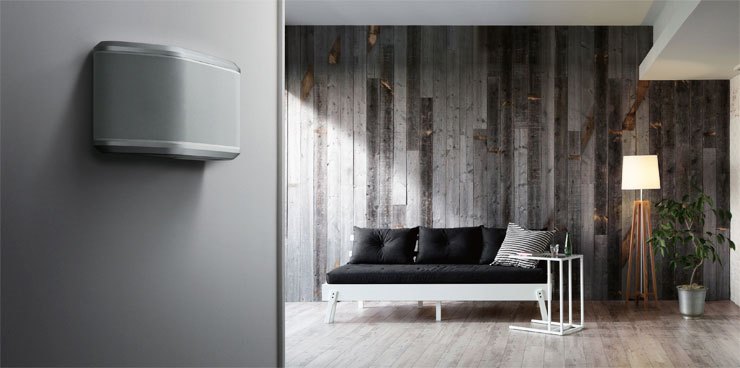 The clean, simple design of the speaker allows it to fit right in, and its compact size makes it perfect for use in the kitchen or by the bedside, for instance. You can even mount it on a wall. A single touchsensitive button switches the speaker on, opening up infinite ways to enjoy your WX-030 wireless speaker.
EQ Setting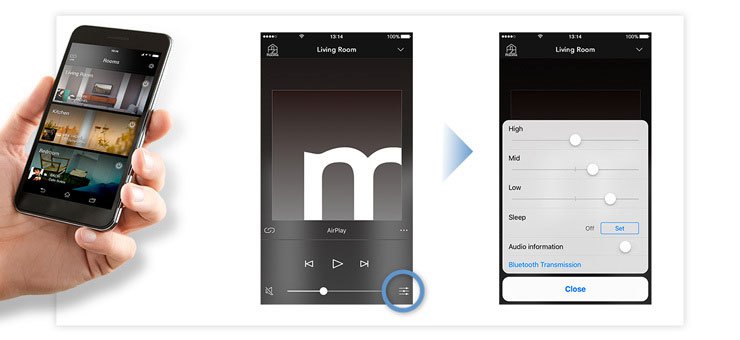 By using the MusicCast App EQ setting, you can perform sound tuning to optimise the source you are listening to or to match your own preferences. You can set the levels of High, Mid and Low audio bands individually.
Digital Sound Projector Technology Delivers True Surround Sound

Yamaha's unique Digital Sound Projector technology achieves actual (not virtual) surround sound in your home theatre. Eight 2.8cm (1-1/8") high quality array speakers create beams of sound that are precisely time- and direction controlled using digital signal processing. The sound reflects off the walls, enveloping you in true surround sound. Beam positions can be adjusted using the remote control or a smartphone app, allowing many people to enjoy the realistic, expansive sound.
True Realism and Powerful Surround Sound from a Slim Body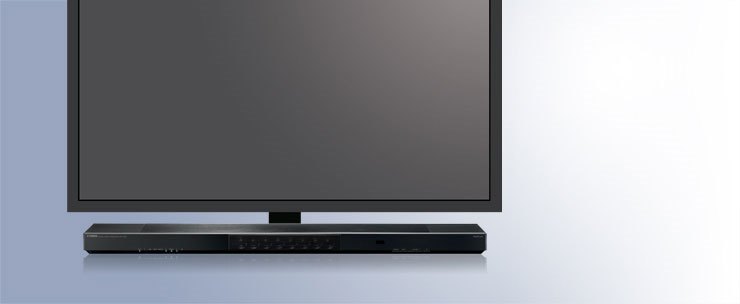 The slim body makes it extremely easy to position the unit in front of a TV, ensuring that the screen is not blocked. The 76W digital amplifier, eight beam speakers and two built-in subwoofers produce truly high quality surround sound from your TV, smartphone or other source.
Dual Built-in Subwoofers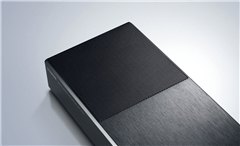 Two upward-facing powerful 8.5cm (3-1/4") subwoofers are built into the ends of the unit. Combined with the bass reflex port and wide, large volume body, the SRT-1600 will deliver clear, deep and expansive bass to enhance the enjoyment of movies and music.
Provides a Choice of Five CINEMA DSP Programmes from Control App

Yamaha's ultra-sophisticated Cinema DSP technology creates thrillingly realistic soundscapes in any room. You can use the app to select five different programmmes: Movie, Music, Sports, Game or TV programmes.
Clear Voice Makes Dialogue and Narrations Easy to Hear

Clear Voice raises the level of dialogue and narrations while maintaining overall sound quality. Movies and TV shows, sports commentary and news broadcasts are more clearly audible.
Jack for an Extra Subwoofer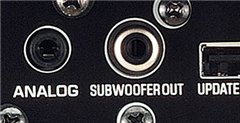 The Subwoofer Out jack lets you connect an additional subwoofer to enjoy even more powerful bass sound.
Streaming Services Offer a Huge Range of Listening Choices

Support for the music streaming services Spotify, Pandora, Juke, Napster, Rhapsody and Sirius XM means you'll enjoy a wide variety of music content. Furthermore, support for the vTuner radio station database enables sampling of Internet radio broadcasts from around the world.
*Streaming service availability varies by region.
HDMI Terminal and 4K Ultra HD Full Support with 4K60p, HDCP2.2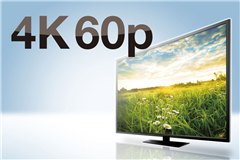 The YSP-1600 completely supports the latest HDMI standards. Thanks to transmission of 4K video at 60 frames per second pass-through, you can fully enjoy the high definition video quality of 4K without degradation. It also adheres to the HDCP2.2 copyright protection standard for 4K video transmission.
App for Easy Operation and Setup - YSP-1600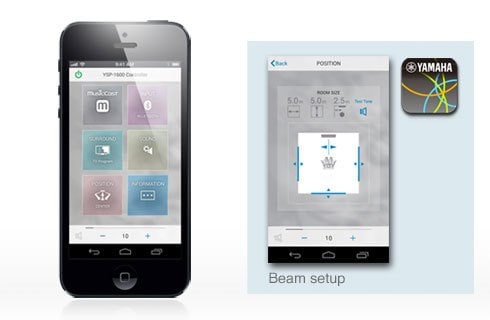 The YSP-1600 is compatible with a free controller app for iOS and Android. The easy-to-see and easy-to-use operating screen uses icons to let you easily perform a variety of operations while watching your smartphone or tablet screen. You can also make detailed settings for the beam sound output.
Other Notable Features - YSP-1600
• OSD supports overlay and multiple languages (Japanese, English, German, French, Spanish, Italian, Dutch, Russian, Swedish, Turkish)
• HDMI CEC and Audio Return Channel compatibility